We talk a lot about gratitude during the month of November. Though I try to focus on gratitude all year long, I appreciate the heightened focus on gratitude around Thanksgiving.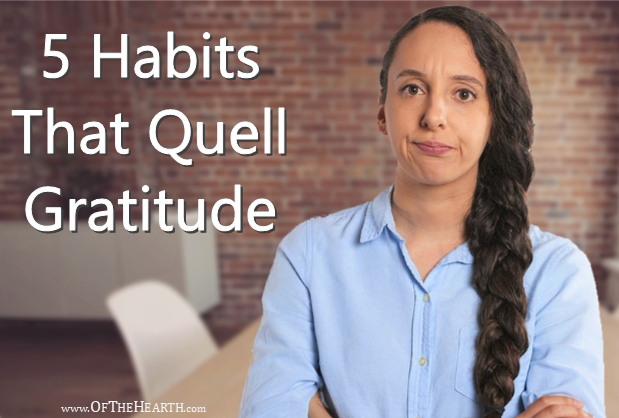 The more I think about gratitude, the more I realize that it's not enough to engage in activities that foster gratitude. If I'm going to be grateful every day, then I have to avoid some gratitude-quelling habits.
Habits that make us ungrateful
Believing advertisers.

It is the job of advertisers to make us think that we need stuff. They use things like billboards, TV commercials, and point-of-purchase displays to try to make us discontent. If we don't keep this in mind when we view advertisements, then we begin wanting newer cars, nicer clothes, larger homes, and fancier gadgets. It's pretty difficult to be grateful when we want so much. However, when we remember the purpose of advertising, then we're often able to remain content—and grateful—for what we already have (1 Timothy 6:8).

Seeking instant gratification.

We don't have to wait anywhere near as often as our ancestors did. Text messaging enables us to get in touch with loved ones in seconds. Microwaves cook meals in minutes. Amazon Prime allows us to have innumerable products delivered to our doorsteps in just two days. Whether it's mastering a new skill, being promoted at work, or getting to the front of the line at the DMV, we tend to be grumpy and ungrateful when we don't get things immediately. It's easier for us to be grateful when we learn to delay gratification because we generally have a greater appreciation for things when we have to work hard for them.

Complaining.

In my experience, complaining breeds complaining. In other words, the more we complain, the more we want to complain. Even worse, the people who hear us complain want to complain, too. No wonder the Bible says to do everything without grumbling (Philippians 2:14)! It's nearly impossible to be grateful while complaints are spilling from our mouths. Therefore, we must be on guard against bitterness, frustration, and disappointment. When we do this and are intentional about giving thanks, then we find that gratitude replaces the discontentedness.

Comparison.

When we compare ourselves to others, one of two things happens: We either feel superior to others or we feel inferior to others. The former leads to feelings of pride and self-importance. The latter leads to feelings of shame and self-effacement. Neither helps us be grateful (2 Corinthians 10:12). When we stop comparing ourselves to others and realize that God looks at us as individuals, then we develop a quiet confidence that positions us to be grateful.

Mindless use of social media.

Social media is a wonderful tool. If we're not careful, though, our use of it will leave us feeling ungrateful.

We all pick and choose what we share on social media. Let's be honest—most of us aren't pinning images of our messy homes on Pinterest or sharing about our latest marital conflicts on Facebook. Instead, we share the good things. This means that what we see on social media isn't an accurate reflection of real life! When we remember this, we're better able to view social media without comparing ourselves to others (see above discussion on comparison).
Social media feeds are brimming with news stories about negative things (racial divisions, natural disasters, political battles, etc.). These things happen around us so we need to pay attention to them and respond in appropriate ways (Ephesians 5:15-16). However, social media often magnifies these issues out of proportion and sometimes disingenuous stories spread with legitimate ones. Moreover, meaningful dialogue about these issues rarely occurs on social media. As a result, we often feel overwhelmed and negative after using social media. These feelings don't leave a lot of room for gratitude. When we're mindful of this and modulate our social media use, then we can limit how much of the gratitude-quelling content we absorb.
I've found that simply being aware of these habits helps me avoid some of them. Others, especially complaining and comparison, are taking a lot of effort to tackle, but I'm glad to have somewhere to focus my efforts as I meditate on gratitude as we approach Thanksgiving.
Do you ever fall into these habits? If so, do they impact your ability to be grateful? What other habits cause you to struggle with gratitude?
Shared at the following:
Save
Save
Save
Save
Save