In the years before I met my husband, I watched my good friends meet, date, and say "I do" to the men of their dreams. As the only single woman among my friends, I often felt alone and misunderstood. I promised myself at that time that if I were ever in their place that I would go out of my way to support my single friends.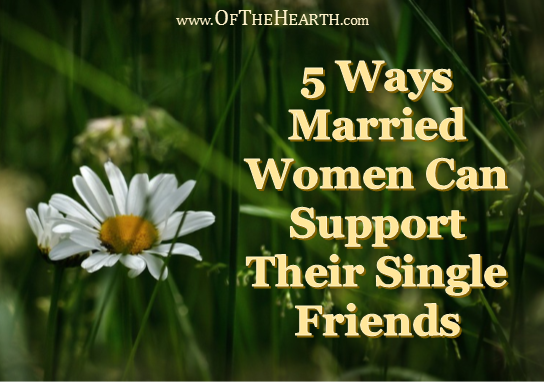 Before I say anything more, let me clarify that not all of our single friends desire marriage. Some are quite content being single and some feel that the Lord has called them to remain unmarried. Regardless of if they desire marriage or not, our single friends may sometimes feel lonely and as though they are the only unmarried person left. All of these friends benefit from our support and encouragement (Romans 12:15).
How to support single friends
Invite them to social events, even if most of the people attending are couples.

Many couples assume that a single friend will not want to hang out at a get together that is being attended by a bunch of married couples. This isn't always the case. Many of our single friends long for fellowship and would enjoy hanging out at a barbeque, game night, picnic, movie night, etc., even if most (or all) of the attendees are married. Unless the get together is specifically tailored to couples, then consider inviting single friends to attend.

Avoid "comforting" them with pithy sayings or unsolicited advice.

When single friends share about their loneliness or desire for marriage, it is so important that we respond in a wise and loving manner. Cliché responses (e.g., "singleness is a gift," "when God knows you're ready, He'll bring you the perfect man") and unsolicited advice (e.g., "you won't find a guy until you stop looking," "I know this great singles group you could join") often aren't wise or loving. Listen compassionately and think before responding (James 1:19). Offer advice when asked and only if you're confident it is good advice.

Don't assume they can't understand any of your struggles or offer sound advice.

Unmarried friends can be empathetic listeners and wise advisors even if they doesn't have personal experience with the situations you are facing. In fact, they may be able to give great advice because of their outside viewpoints. At times you may even be surprised to learn that they are facing similar struggles. Some challenges in marriage, such as budgeting, aren't unique to marriage!

Visit with them about a wide variety of topics.

Though many of your single friends are more than happy to listen to you discuss your thoughts and concerns regarding marriage-related topics, they'd probably like to talk about other things, too! Ask about their jobs, their families and other relationships, or whatever is on their minds.

Consider hanging out somewhere other than your home.

If you are married and have kids, it's often easier to have single friends come to your place than to go to their homes. There is not necessarily anything wrong with this, but in some cases it can be a strain on your friends and make them feel that their homes and ways of life are inadequate. Subsequently, it's nice to occasionally visit their homes or hang out in other locations (coffee shops, restaurants, etc.).
All of our single friends are different, so some may appreciate these gestures of support while others may not. Sit down with your friends and ask how you can best support them. If they share anything that is particularly insightful, please share it with us!
Do you have unmarried friends? What things do you do to support them?
Shared at the following link parties:
Monday's Musings, Titus 2 Tuesday, Titus 2sday, Tuesday Talk, Coffee and Conversation, Shine Blog Hop, Wedded Wednesday, and The Art of Homemaking.