According to the Pew Research Center, mothers spend about twice as much time with their children as fathers do.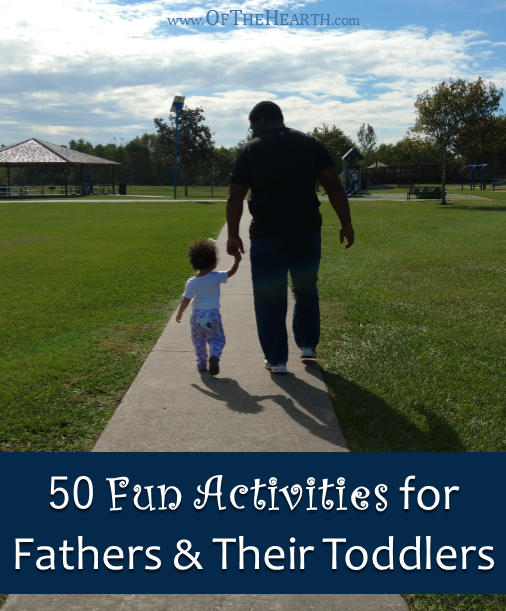 Regardless of the reasons for this statistic, one consequence is that many fathers feel uncertain about what sort of activities to share with their toddlers—curious creatures who are notorious for their mercurial moods, short attention spans, and boundless energy. If this is the case in your household, then take note of these 50 ideas.
Fun father-toddler activities
Indoor activities
Build a fort out of blankets, furniture, boxes, etc.
Read books
Build towers and other structures out of blocks
Sing songs (e.g., Old MacDonald, The Itsy Bitzy Spider)
Invite other daddies and their toddlers over for a playdate
Assemble puzzles
Play hide-and-seek
Play "basketball" when cleaning up (i.e., stand back and toss toys into the boxes and tubs where they belong)
Finger paint pictures
Play horsey or give/receive piggy-back rides
Wrestle with and tickle each other
Play dress up with old clothes
Dance to music
Make puppets and put on a show
Color with crayons or colored pencils
Play airplane (i.e., the toddler is the airplane and daddy flies him or her around through the air)
Build robots or monsters from discarded materials (e.g., toilet paper tubes, boxes, scrap paper, plastic food tubs)
Make cookies, crispy treats, or some other special snack
Make instruments from household items (e.g., pots as drums, spice containers as maracas) and play music
Have a teddy bear picnic or tea party
Practice manners
Play with playdough
Make a gift for mommy
Play a simple game like Go Fish or Candy Land
Outdoor activities
Play on a playground
Run through the sprinklers
Play catch with a ball
Go for a walk
Build sandcastles or snowmen (depending on your location and weather)
Play hopscotch
Draw with sidewalk chalk
Have a campout in the backyard
Blow bubbles
Play in the dirt and mud
Climb a big hill and roll down it
Build an obstacle course and race through it
Wash the car together
Pack lunch and have a picnic in the park
Plant a garden
Ride bicycles (or a bicycle and tricycle) around the neighborhood
Race toy boats across a small pool
Fly a kite
Destination activities
Go to the library and explore new books
Visit a children's museum
Go out for ice cream or frozen yogurt
Attend a local Touch-a-Truck event
Go to the zoo
Visit the farmer's market or grocery store to purchase unfamiliar varieties of produce, then enjoy tasting them
Visit a "pick your own" farm
Visit a splash pad
Mothers and other caregivers can obviously participate in these activities, too. However, in the study cited above, researchers found that half of fathers say they spend too little time with their kids. I'm hoping that considering these activities in the context of daddies and their toddlers can help change this!
What father-toddler activities are favorites in your family? Please share these with us below.


Shared at the following:
Coffee and Conversation, The Art of Home-Making, Tuesdays with a Twist, Tuesday Talk, Happy Now, and Mommy Moments.
Save
Save
Save
Save
Save
Save
Save
Save
Save
Save
Save
Save