Laundry is one of the most frustrating homemaking tasks because you're never truly done. Even if you wash all of your laundry, within hours you have more clothes that need washed!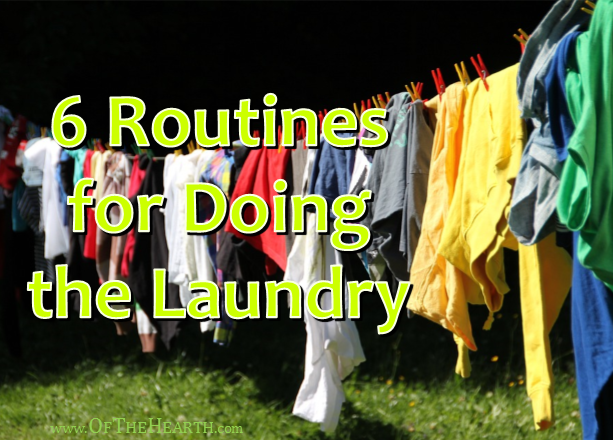 I've never had a formal system for completing my family's laundry. We use cloth diapers, so I usually need to wash these every other day. On the days in between diaper laundry, I wash other loads. If we're low on towels, then I wash towels. If my husband or I only have a few pairs of clean underwear, then I wash underwear and socks.
Technically this approach gets the job done, but it's not ideal. Sometimes we get low on clothes that we need (like pants for my husband to wear to work) because I haven't made it around to washing a particular load. I need a more efficient approach!
Routines for doing the laundry
I've combed the internet to find out how other families do their laundry. Here's what I found.
Do all your laundry in one day
This approach is a bit like a marathon! You begin early in the morning by sorting your laundry (whites, darks, towels, etc.). You then start a load and set a timer for one hour. When the timer sounds, you transfer the clothes to the dryer (or hang them on the line). You then start your second load and set the timer for one hour again. When the timer sounds, you transfer the clothes to the dryer (or hang them). You repeat this process until the clothes are all washed. Towards the end of the day, you gather the family around and start folding. Once everything is folded, you put it all away (idea source). The main benefit of this approach is that it gives you six laundry-free days each week! By using a timer, you can get numerous loads washed in one day, so this tends to work even for large families who have a lot of laundry. This approach does require an adult in the family to devote a day each week to being at home for laundry, so it may not work for every family.
Do your laundry over three days
This approach is similar to the one-day method in that you wash all of your laundry in one day. However, with this method, you just focus on getting everything washed on Day 1. Then, on Day 2, you fold and hang everything. On Day 3, you put everything away (idea source). Your clothes may get a little wrinkled sitting in the baskets overnight, but everything gets done! Because this approach is spread over three days, it's less of a marathon than the one-day approach, but it still gives you four laundry-free days each week. This works for both large and small families and provides a little more flexibility for families who need to leave the house while laundry is underway.
Each day wash a load that consists of whatever dirty clothes you have on hand
With this approach, you wash one load of laundry each day. You take all the dirty clothes you have and toss them into the washer as a single load. You wash them, dry them, and put them away. You can start the load first thing in the morning and then transfer it to the dryer later that evening (if you're line drying clothes, you'll want to hang them soon after they wash so they have time to dry). Once the clothes are dry, you put them away (idea source). This approach prevents clothes from piling up and makes sure you don't ever run out of clean clothes, but it doesn't allow you to wash different clothes in different cycles. It may not work for large families who have too much clothing for a single load and you still may need a "laundry day" for washing bulky items like sheets and towels.
Each day wash a particular type of laundry
Like the approach described above, this one involves washing a load each day. Unlike the approach described above, this one involves sorting. On Monday you'll wash dark items, on Tuesday you'll wash light items, on Wednesday you'll wash towels, and so forth (idea source). For this approach, I would recommend you sort your clothes as you take them off (i.e., instead of throwing everything in the same hamper/basket, have separate hampers/baskets for different types of clothes). Otherwise you'll be sorting through piles of clothes each day in order to find the whites or whatever you need! This approach prevents clothes from piling up too much and allows you to wash clothes in different cycles. Large families may not find one load a day to be sufficient and you may need to do an additional load or two throughout the week to accommodate bulky items.
Each day wash one family member's clothes
This approach also involves doing one load each day, but instead of washing one type or whatever clothes are on hand, you wash one family member's clothes. As long as each family member has his or her own hamper/basket, then this approach eliminates the need for sorting (idea source). You can help older kids learn responsibility and life skills by having them wash, fold, and put away their own clothing on their designated day (even younger kids can help with the folding and putting away). One benefit of this approach is that you save a lot of time by not having to separate clothes after they've been washed—all of the clothes in a load belong to one person and will be returned to one location. You'll likely need to give things like towels and sheets their own day. This approach should work for small or large families (though you may need to wash more than one individual's clothes each day).
Use a laundry service
This final approach differs significantly from the others. With it, you don't do the laundry—you pay someone else to do it. Every laundry service works a little differently. Most pick up your laundry from your home and then sort, wash, dry, and fold your clothes in their facilities before returning the clothes to you. How much they charge and the specifics of their services (e.g., what detergents they use, if they wash in cold or hot water) vary, so check with local laundry services for details. Laundry services will save you time, but they will likely cost you more money than doing the laundry yourself.
What works for you?
I'm going to try a couple of these approaches! Before I settle on one, though, I'd love to hear about your laundry routine. How do you get your laundry done?
Shared at the following:
The Art of Homemaking, Happy Now Link-Up, Coffee and Conversation, and Tuesday Talk.
Save
Save
Save
Save
Save
Save
Save
Save
Save
Save
Save
Save
Save