There are a lot of families with young children in my church. These families are generally easy to identify because we're the ones straggling in after service has begun!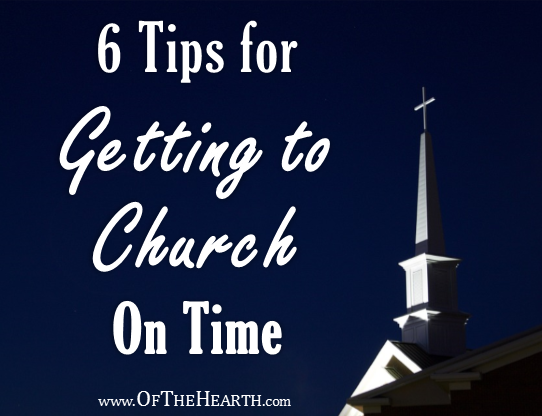 Being prompt is important to me, so I decided to take action when I realized we were falling into a pattern of arriving late for church. If your family struggles to make it to church on time, then these strategies may benefit you, too.
Why is it so hard to arrive at church on time?
For a while I didn't understand why it is so difficult to make it to church on time. After all, we're able to make it on time to medical visits, play dates, story times, etc. during the week. I quickly realized that there are differences between church mornings and other mornings.
First, my husband is home on Sunday mornings. No, I'm not insinuating that he is the reason why we are sometimes late. However, his presence does create a different dynamic than we have on weekdays when he is at work. Second, it's the weekend and a day of rest, so we desire to sleep in and take life at a slower pace. Finally, because we are headed to church where we will worship, learn, and fellowship with other Christians, I imagine the enemy is eager to put barriers in place to keep us out of church (Ephesians 6:12, 1 Peter 5:8).
How to get to church on time
With a little planning, we can arrive at church on time with genuine smiles on our faces because we've had pleasant mornings.
Start preparing the night before.

Taking a few minutes on Saturday evening to select clothes for the next day, pack the diaper bag, gather Bibles and notebooks, etc. saves us a lot of time and hassle on Sunday morning. It's also critical that we make it to bed on time. If we don't, it's a real challenge to get up when our alarms sound.

Get up earlier.

Though it is tempting to set our alarms for a little later because it is a weekend day, doing so sets the stage for tardiness. It's best to set alarms for an early hour that allows ample time to get ready. If I think it will take us an hour and a half to get out of the house, then I set my alarm for two hours before we need to leave. This earlier time provides some cushion for those mornings (which is pretty much every week) when things don't go smoothly.

Eliminate distractions.

One of the things that slowed us down in the past was my husband checking the news. He would turn on the TV news for a few minutes and a story would catch his eye. One story flowed into the next until it was time to leave the house and we weren't ready. The solutions to problems like these are simple: leave the TV off, don't check social media, don't pull out complicated toys for the kids, etc. There will be plenty of time for these activities after church.

Keep breakfast simple.

I love preparing hot, hearty breakfasts on weekend mornings. However, there's not time for me to prepare these on Sundays. By sticking with quick foods like oatmeal, fruit and yogurt, make-ahead breakfast casseroles, or even cold cereals, we're able to prepare and consume breakfast in a timely manner.

Pray about it.

As with other challenges we face, we should get on our knees and ask the Lord to help us. We all benefit from His help and He may reveal specific things that your family can do differently in order to be prompt.

Model excitement about meeting with God's people and worshiping Him.

If something really matters to us and we're excited about it, then we're not likely to be late to it. We'll get up early and rush through our preparations in order to be on time (or even early). Of all of the activities in our lives, we should be excited about church. If we cultivate this excitement and model it for our children, then our whole families will be eager for church. This will fill our preparations with enthusiasm and anticipation.
Do you ever struggle to get your family to church on time? What strategies help you arrive promptly?
Shared at the following:
Moments of Hope, Monday's Musings, Happy Now, Tuesday Talk, Coffee and Conversation, Encouraging Hearts and Home, Blogger Spotlight, Grace and Truth, Mommy Moments, and The Art of Home-Making.
Save
Save
Save
Save
Save
Save
Save
Save
Save
Save
Save
Save
Save
Save