When I first became a stay-at-home mom, I was surprised at how lonely I felt. I was never alone because I had a little baby with me all of the time, but the only adult I had daily contact with was my husband.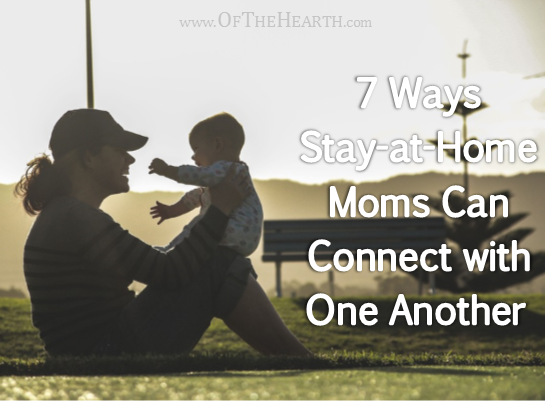 As time has passed and we've moved to a new community, I've discovered a number of ways that stay-at-home moms can connect with each other.
How to connect with other stay-at-home moms
Reach out to stay-at-home moms who you already know.

It's likely you know at least one other woman who is a stay-at-home mom. You may not be friends with her, but you have some sort of contact. She may be a member of your church, a former coworker, an attendee of your aerobics class, etc. Reach out to this woman and see if you can hang out or meet for lunch sometime. Like you, she may be eager for fellowship!

Take your kids to story time at the library.

Story time at the local library benefits moms as much as it does kids! While your little ones are enjoying a story read by someone other than you, take the opportunity to introduce yourself to other moms and form connections. Once you get to know each other, you can make plans to get together outside of the library.

Visit places where you'll find kids and their moms

. Libraries aren't the only locations where you'll find kids and their moms. You'll often find them in settings like playgrounds, children's museums, and community recreation centers. By visiting these, you'll have numerous opportunities to connect with other moms.

Attend meetings of national mom organizations.

Sometimes the easiest way to meet other stay-at-home moms is to attend formal meetings for moms, including those hosted by national mom groups such as MOPS, La Leche League, and MOMS Club. These organizations provide a structured, supportive, and fun way to get to know other moms.

Look online for groups that meet virtually or in person.

The internet can be a great place to start when looking for fellowship with other moms. By joining stay-at-home mom groups on social media or finding local interest groups with an online tool like meetup.com, you can connect with other moms. Some of these groups only share fellowship online, but many get together in person for activities.

Start your own hobby or interest group.

If you're not aware of a group you can join for fellowship, you can always start your own! It can be a group for other stay-at-home moms or a group for others who share an interest with you (scrapbooking, sewing, running, etc.). Let your neighbors and friends know about the group, hang informational posters on community bulletin boards, and promote the group on social media.

Just get out of the house.

It's uncertain if the above strategies will help you meet other stay-at-home moms or not, but it is certain that you won't meet other moms if you don't leave your home. It's critical that you get out and about in order to find fellowship. You may meet other moms in the checkout line at the grocery store, while looking at produce at the farmer's market, or while going on a walk. Keep your eyes open for these opportunities because you never know when you'll meet a new friend.
In this post I specifically noted ways that stay-at-home moms can connect with each other, but this doesn't mean that stay-at-home moms and working moms or stay-at-home moms and childless women can't also connect and be friends. These friendships often form out of other locations and activities, though, so I haven't focused on these here.
Are you friends with other stay-at-home moms? If so, how did you meet these women?
Shared at the following link parties:
Monday's Musings, Titus 2 Tuesday, Titus 2sday, Tuesday Talk, Coffee and Conversation, Shine Blog Hop, Funtastic Friday, Friday Frivolity, Small Victories Sunday, and The Art of Home-Making.