I absolutely love our new house. One of the many fantastic things about it is that we have room to grow. It is 1,100 sq. ft. larger than our previous house, giving us an additional bedroom, an additional bathroom, and more living space than we had before.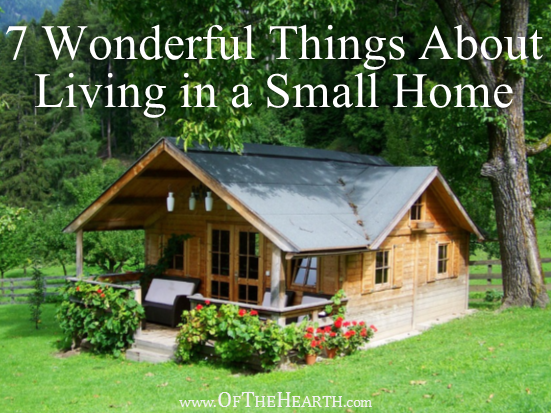 We're so grateful for the additional space. As much as I appreciate it, though, I've realized that there were a number of benefits associated with living in a smaller home. It's a classic case of not knowing what you have until it's gone!
The benefits of living in a small home
You're always in close proximity to loved ones.

Smaller homes necessitate a lot of interaction among family members. This promotes bonding and helps you learn how to work through conflict (after all, you can't run to an empty room to be by yourself).

You have less to clean.

It didn't take me long to realize how much longer it takes to clean a home that has more square footage! When you're in a small home and have less to clean, you have more free time to spend on other tasks.

You have lower utility bills.

It generally costs less to heat and cool smaller spaces. It costs less because you are using less electricity and gas. Subsequently, you save a lot of green and be green by living in a smaller home.

You have less to maintain.

Though small homes can have the same leaks and squeaks that larger homes have, it's generally easier and more affordable to address these because you're only fixing leaks in one bathroom, not in three. Likewise, you're only paying to replace a small roof instead of a large one.

You need fewer furnishings.

When you don't have to pay for furnishings for many rooms, you can save money or choose to use this money on furnishing the rooms you do have with high-quality items that you really like.

You are encouraged to simplify and declutter.

Unless you're going to live in a very cluttered environment, having the limited storage space afforded by small homes encourages you to routinely sort through your stuff and get rid of unneeded items.

You get out of the house more often.

The coziness of small homes can sometimes begin to feel confining. Believe it or not, this is actually a good thing! The desire to get out for a while drives you outside where you benefit from fresh air and the exercise that often accompanies outdoor activities.
I'm not trying to romanticize the benefits of living in a small home. Most families who live in small homes would say that there are plenty of challenges associated with having limited space! Additionally, there are a number of unique benefits associated with living in larger homes. We'll take a look at these benefits in a couple of weeks.
Do you live in a small home or a large home? What benefits are associated with the amount of space you have?
Shared at the following link party:
Share The Wealth, Living Proverbs 31, Monday's Musings, Tuesdays with a Twist, WholeHearted Wednesday, and Making Your Home Sing.