On December 9th, 2012, I published my first post on OF THE HEARTH. Two years and 260 posts later, I'm celebrating the wonderful things that have happened here! One way I'm celebrating is by giving YOU an opportunity to win an amazon.com gift card (see below for details).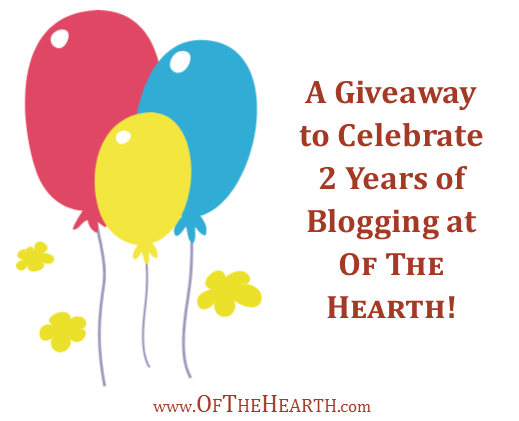 We've explored some interesting topics and engaged in some thought-provoking conversations. Here are the 10 posts that have been viewed the most:
If you want to catch up on these or any other posts on OF THE HEARTH, you can do so by visiting the archives page. If you want to make sure you don't miss any upcoming posts, then connect with me on social media (click on the images below) and subscribe via email (use the field below the Email Subscription title on the sidebar).
I'm providing a giveaway for a $40 amazon.com gift card in appreciation for your feedback about the blog. The winner will be randomly selected on December 16th, 2014 (enter the drawing by the end of the day on December 15th, 2014 to be eligible). How do you enter the drawing? It's easy! Simply leave a comment answering one of the following question sets about the blog:
Question Set 1: Which post is your favorite? Why is this your favorite post?
Question Set 2: Which topics would you like to see addressed more frequently? Which would you like to see addressed less often?
Of course, you are welcome to answer both question sets and share any additional feedback you have, but you only have to answer one set to be entered into the drawing (you'll only be entered once even if you provide additional feedback). I will update this page with the winner's name on December 16th. The gift card will be sent to the winner via email shortly thereafter.
Thanks for being part of the community here at OF THE HEARTH! I look forward to reading your feedback and incorporating your suggestions into my posts.
12/16/14 Update: Using the random name picker at classtools.net, I've identified the winner: Tammy Robinson. Congratulations, Tammy! Thanks to everyone for leaving feedback.