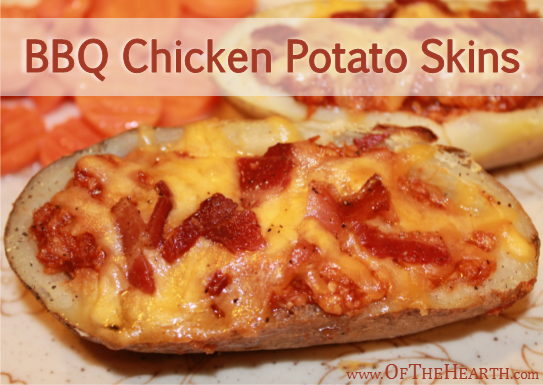 Every now and then I want to try something really fun and new for dinner. I had a couple of dishes on our menu that used potatoes, so I figured I'd come up with an additional recipe that would finish off the bag. I also had a couple of chicken breasts available, so I found a fresh way to use the chicken and potatoes together. The result was an easy, fun, and hearty meal.
Ingredients
5 medium potatoes, washed and baked
2 chicken breasts, cooked and shredded
1 1/2 cups BBQ sauce
1 cup shredded cheddar cheese
A couple slices of bacon, crumbled (optional)
Several dashes salt and pepper
Instructions
When the potatoes are cool enough to handle, slice each in half lengthwise and scoop out their centers (reserve the centers for another use). Place the shredded chicken in a bowl and stir in the BBQ sauce.
Fill the center of each potato with the shredded BBQ chicken. Top with the shredded cheese and crumbled bacon, then sprinkle with salt and pepper. Bake in an oven preheated to 350°F for 12 minutes or until the cheese is melted. Yield: 10 potato skins (about 5 servings when consumed as an entrée).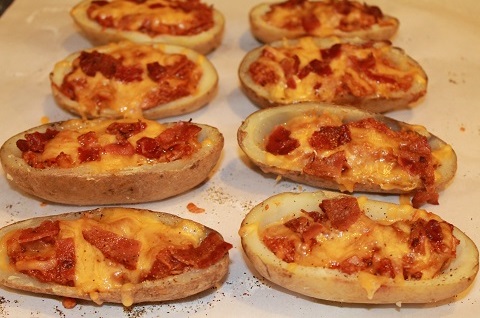 Notes
These potato skins were a refreshing change of pace! They were very easy to prepare, tasty, and filling. They were hearty enough to be an entrée, but would also make a great snack or appetizer. I used the inside portion of the potatoes to make mashed potatoes for a later meal.
There are a lot of different ways you could prepare the chicken used in these (bake it, grill it, etc.). You could even use leftover chicken from another meal or purchase a rotisserie chicken at the store if you are short on time.
The ingredients for these potato skins cost approximately $6.65, which is just $1.33 per serving. We served them with a vegetable, which increases the price to about $1.50 per serving. Give these a try and feel free to customize them when you do: Try different types of cheese, use pulled pork instead of chicken, add a dollop of sour cream, etc.
What fun recipes have you tried recently?
Shared on the following link-ups:
Frugal Crafty Home, Motivation Monday, Saturday Soiree, Weekend Potluck and Creativity Unleashed.