Big changes in life provide opportunities to reevaluate your family's financial needs. We've been reevaluating our needs, including our life insurance needs, as we prepare to welcome our baby girl.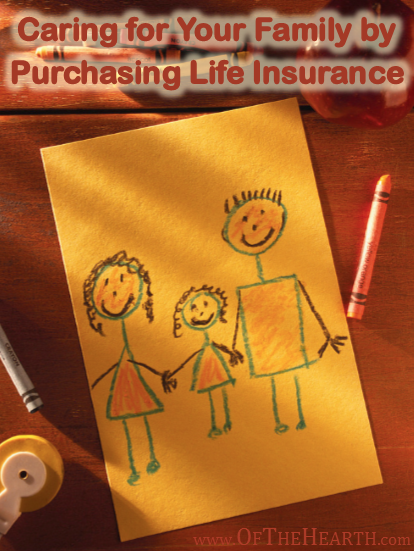 Personally, I don't enjoy talking about finances in general. The specific topic of life insurance is even worse! After all, discussing this topic requires that we acknowledge the reality that we'll die someday. Though I hope my husband and I both live for a long time, we understand that we are not guaranteed tomorrow. Subsequently, we've updated our life insurance policies to meet our family's needs.
Why purchase life insurance?
The term "life insurance" is actually a little bit of a misnomer. Your car insurance pays to replace your car if it gets destroyed. Your homeowner's insurance pays to replace your house if it gets destroyed. Conversely, life insurance can't replace your life if it gets destroyed. What life insurance does is assist your family by providing income, paying debts/liabilities, and covering funeral expenses.
If you have money in savings and have no dependents or debts, then it's quite possible that you don't need life insurance. Most Americans, though, benefit from life insurance.
In our family, my husband is the breadwinner. He goes to work every day to earn a paycheck to pay our mortgage, put gas in our cars, and put food on our table. He needs life insurance because without him our family would have no income. I'm a homemaker and stay-at-home mom. I need life insurance because without me my husband would need to pay for childcare and possibly for a cleaning service. We trust that the Lord will provide for us, but we believe He gives us wisdom to take steps to prepare for what challenges the future may hold (Proverbs 6:6-8).
How much life insurance coverage do I need?
Different experts recommend that you purchase different amounts of life insurance coverage. Some use complicated formulas and others simply say you should have coverage that is 10 times your income. You can see some various formulas here, here, and here. It is helpful to visit with a local insurance agent or two to determine how much coverage you and your spouse need.
For us, the ideal would be to have enough coverage on my husband that I could continue to stay home without his income. Unfortunately, there is no way we could afford monthly premiums on coverage of this amount. We've chosen instead to purchase enough coverage to cover our mortgage (so we wouldn't lose the house), pay any potential medical expenses and funeral costs, and to provide sufficient income until I could find a job and transition to being a working mom.
Because my husband is the breadwinner, we don't need as much coverage on me. The only expenses my husband would have to cover would be medical bills, funeral costs, and daycare costs.
What type of coverage should I get?
There are a number of different types of life insurance. These fall within two broad categories:
Term policies – These provide coverage for a specified term (1 year, 5 years, 10 years, 20 years, etc.). They are typically more affordable than permanent policies.
Permanent policies – These provide coverage for the rest of your life. These are typically more costly than term policies.
We've selected term policies because these meet our current needs. I'm clearly not an expert on the topic, so I can't say what coverage type and amount is best for you. However, I do hope to get you thinking about the topic so you'll take a closer look at your family's needs and take steps to get the coverage you need to care for your family.
Share about your experience with life insurance. Have you had loved ones die without life insurance? What challenges (if any) did this pose? Do you and your spouse have life insurance? How did you choose your coverage amounts?
Shared on the following link-ups:
Motivation Monday, Making Your Home Sing, Saturday Soiree, Essential Fridays, Thrifty Thursday, Thriving Thursday & WholeHearted Wednesday.