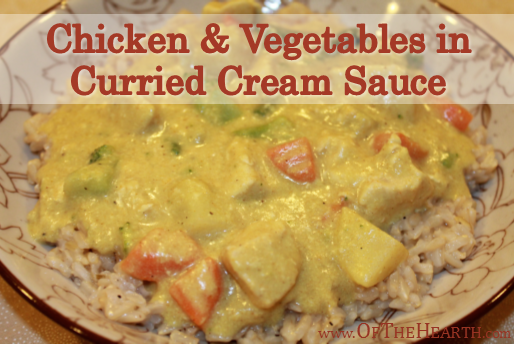 My husband and I enjoy several varieties of curry, but on occasion we desire a dish that is a little milder. This affordable, nutritious dish is perfect for these times.
Ingredients
2 tablespoons butter
2 tablespoons flour
1-2 teaspoons curry powder (depending on how mild of a flavor you want)
1 can (13.5 oz.) coconut milk
1/2 cup chicken broth
2 chicken breasts, cut into bite-sized pieces
1 large potato, peeled and diced
1 1/2 cups frozen veggies of your choice (I used broccoli, carrots, and green beans)
1 small onion, thinly sliced
Hot cooked rice
Instructions
In a small saucepan, melt the butter over medium heat. Add the chicken broth, then whisk in the flour and curry powder until smooth. Gradually add the coconut milk. Bring to a boil, stirring constantly. Cook and stir for 1-2 minutes or until thickened. Remove from the heat and set aside.
In a large skillet, cook the chicken and potato over medium heat until done. Add the frozen vegetables and onion; cook until tender. Add the sauce and simmer until thoroughly heated. Serve over prepared rice. Yield: 4 servings.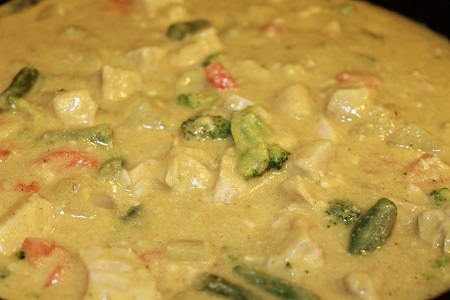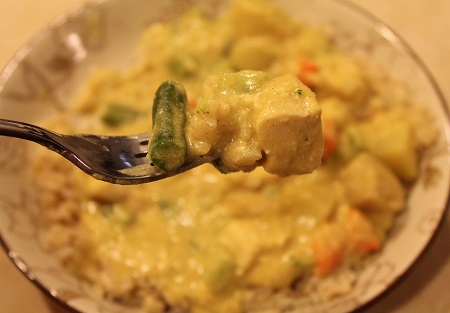 Notes
This is a similar approach to how I prepare some other curry recipes, I just use less curry powder so the flavor of the coconut milk is more pronounced and the curry flavor is more of an accent. If you have meat lovers in the family, they may want you to use more than two chicken breasts. I find that the potato and veggies give this recipe a lot of bulk, so the two chicken breasts are sufficient for us. Moreover, this is a great dish to sneak in some veggies your family may not love because the sauce will mask their flavors!
The ingredients for this dish cost approximately $6.76, which is just $1.69 per serving. Give this one a try next time you want to serve a vegetable-packed meal that is flavorful and affordable!
Shared on the following link-ups:
Frugal Crafty Home, Making Your Home Sing, Weekend Potluck, Creativity Unleashed, Thrifty Thursday, Home and Garden Thursday, Whatever Goes Wednesday & Coffee and Conversation.