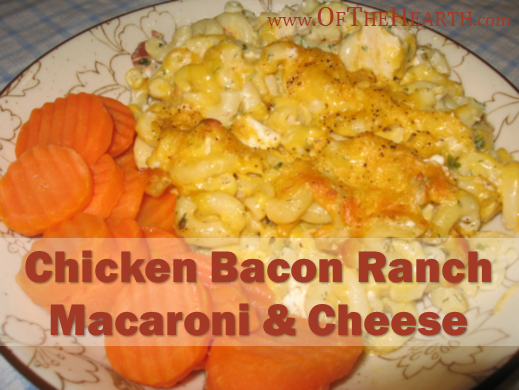 This variation of macaroni and cheese has turned out to be one of the tastiest dishes on our menu this fall!
Ingredients
1 chicken breast, cooked and cut into bite-sized cubes
4 slices of bacon, cooked and crumbled
3 cups macaroni (uncooked measure)
1/2 cup sour cream
3 tablespoons ranch seasoning mix
4 cups shredded cheddar cheese
1 1/2 cups milk
Salt and pepper
Instructions
Preheat oven to 350°F. Cook the macaroni according to package instructions, drain, and return to the pot in which it was cooked. Stir in the prepared chicken and bacon, sour cream, and ranch seasoning mix.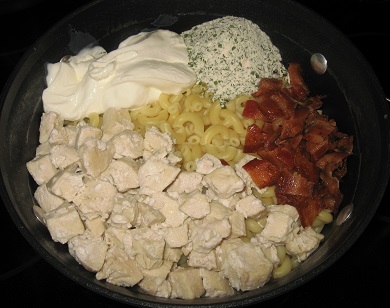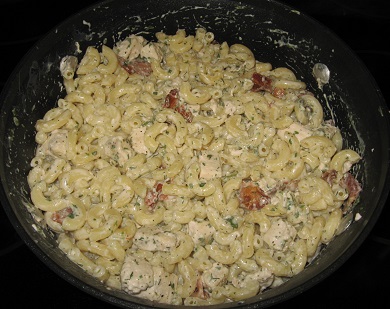 Place one-third of the macaroni mixture in a greased oven-safe bowl or casserole dish. Sprinkle with one-third of the shredded cheese. Repeat twice, so you have a total of three macaroni-cheese layers. Pour the milk over the top and sprinkle with salt and pepper.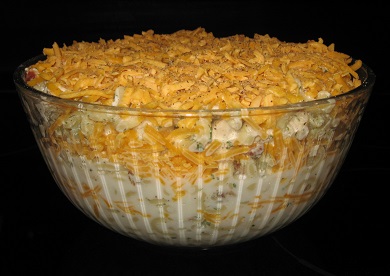 Bake uncovered for 30-35 minutes, until it is heated through and the top layer of cheese is slightly brown and crisp. Yield: 4 hearty servings.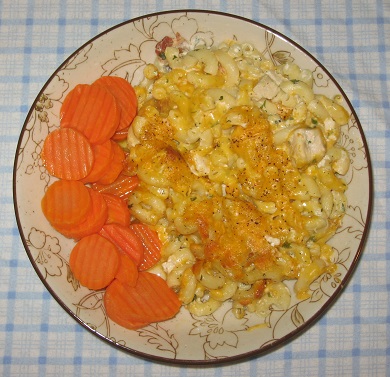 Notes
This dish is very flavorful and filling! My husband loves the chicken and bacon in it. Feel free to add additional bacon (my husband always wishes I would). I've also prepared it without the meats (using just the ranch seasoning and sour cream to flavor it) and it was still very tasty. If you eat any leftovers of it, I recommend adding a splash of milk before reheating so it remains creamy.
The ingredients for this dish cost $7.75, which is $1.94 per serving (this price includes everything but the salt and pepper). We eat it with a vegetable (usually a frozen vegetable), so this brings the cost of each serving to $2.11. This is the most expensive of the macaroni and cheese dishes we make in my house. It's very good, though, so it's worth it on occasion!
Sound yummy? Give it a try!
Shared on the following link-ups:
Weekend Potluck, Whatever Goes Wednesday, Living Proverbs 31, Frugal Crafty Home, & Share Your Creativity.