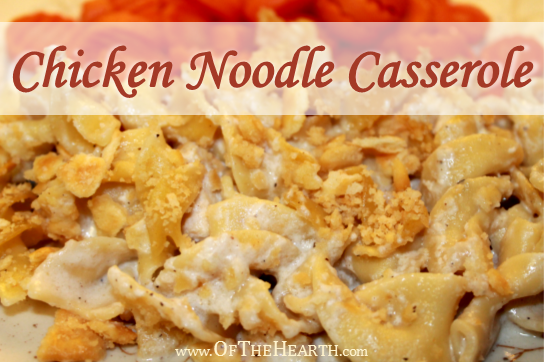 I love serving warm casseroles for dinner on cold winter evenings. This hearty one is always a favorite in my house.
Ingredients
(Adapted from this recipe.)
2 boneless, skinless chicken breast halves
14 ounces egg noodles
2 cups homemade cream of mushroom soup or 1 (10.75 ounce) can condensed cream of mushroom soup
1 cup sour cream
1 cup milk
Several dashes onion powder, garlic powder, salt, and pepper
1 cup crumbled buttery crackers
4 tablespoons butter
Instructions
Preheat the oven to 350°F. Poach the chicken in a large pot of simmering water. Cook it until no longer pink in the center, about 12 minutes. Remove from the pot and set aside. Bring the chicken cooking water to a boil and cook the egg noodles in it. Drain once tender. Cut the chicken into small pieces and mix in with the noodles.
In a separate bowl, mix together the mushroom soup, sour cream, milk, and seasonings. Gently combine the soup mixture with the chicken and noodles. Place in a lightly greased 9×13 in. baking dish.
Melt the butter in a small saucepan. Remove from the heat and stir in the crumbled crackers. Sprinkle the buttered cracker crumbs over the top of the casserole.
Bake for 30 minutes or until heated through and browned on top. Yield: 6 servings.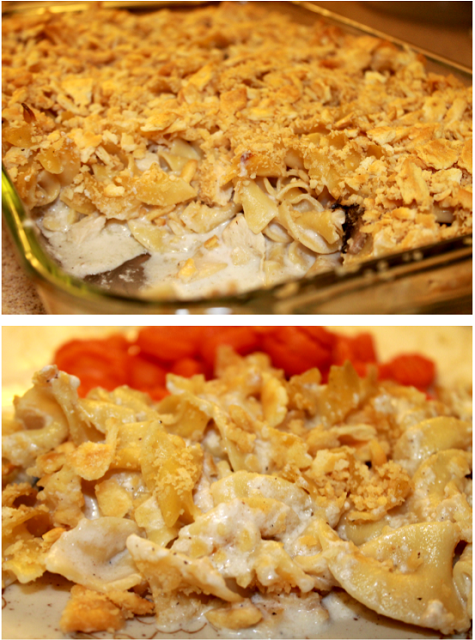 Notes
This casserole is a great comfort food! Sometimes I make it as described above, but I've also tried some variations. I've used seasoned bread crumbs instead of buttery crackers for the topping, I've stirred cheddar cheese into the casserole, I've sprinkled the top of the casserole with Parmesan cheese, etc. All of these variations were great. There's a lot of room for experimentation, so get creative and see what works best for your family!
The ingredients for this dish cost approximately $8.32, which is just $1.39 per serving. We eat it with a veggie on the side, which increases the cost to about $1.56 per serving. Try this tasty, hearty, and affordable casserole tonight!
What's your favorite casserole to serve during the winter months?
Shared at the following link parties:
Weekend Potluck, Inspiration Spotlight, Creativity Unleashed and Home and Garden Thursday.`