I'm amazed at how my appreciation for my husband's physical attributes has grown throughout our marriage. Though I found him attractive when I married him, I find him even more attractive now.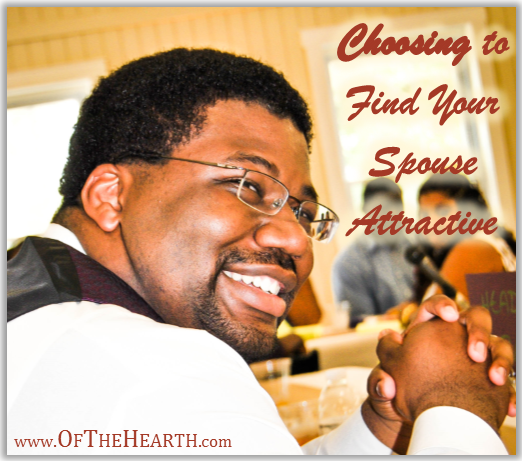 I remember back in my single days having conversations with other single ladies and single guys about attractiveness. There was this overall feeling that our standards for attractiveness are inherent—we don't consciously choose them. Some women naturally prefer tall guys, some women naturally prefer blue eyes, etc.
This fatalistic view of attractiveness led many of these single men and women to overlook wonderful, God-fearing individuals who would make great spouses simply because they were not attracted to them.
This view of attractiveness poses challenges for married individuals, too. Time tends to usher in grey hairs, weight gain, wrinkles, etc. Even if you marry a person who is the epitome of attractiveness, the traits you find to be attractive may someday fade and be replaced by traits you find to be unattractive.
I realized the limitations of this view of attractiveness when I read Sacred Marriage for the first time. The author, Gary Thomas, wrote this about his wife, Lisa, and attractiveness:
For instance, marriage calls us to redirect our desires to be focused on one woman or one man in particular rather than on society's view of attractive women or men in general.
On the day I was married, I began praying, "Lord, help me to define beauty by Lisa's body. Shape my desires so that I am attracted only to her." I knew from the book of Proverbs that I was to take delight in my wife, not in women in general…
I cannot fully explain without embarrassing my wife, so I'm going to speak generally. God has answered my prayer. The physical characteristics that distinguish my wife are the characteristics that I generally find most attractive in other women.
What a different way of thinking than the view I described above! We are not at the mercy of what we naturally find attractive. We can ask the Lord to help us define attractiveness by the appearances of our spouses.
To be perfectly honest with you, I do think that a lot of our understanding of attractiveness is inherent. However, this doesn't mean that it's fixed. After all, we're naturally inclined to sin, too. My inherent inclination is to lie and cheat, but I can avoid these behaviors because I'm not controlled by the sinful nature, but by the Spirit (Romans 8:9). This same Spirit can move in our hearts to help us define beauty by our spouses.
I made the choice to find my husband attractive when I began praying during our engagement that I would define attractiveness by his appearance. I've never struggled to find him attractive, so perhaps this was completely unnecessary. However, given how much my attraction to him grows with each passing day, I'm glad I did.
Have you ever thought to pray about how you define attractiveness? Choose to find your spouse attractive by joining me in praying that you'll define physical beauty by your spouse's appearance.
Shared on the following link-ups:
Works for Me Wednesday, Titus 2 Tuesday, Motivation Monday, Living Proverbs 31, Making Your Home Sing, Essential Fridays, Thrive @ Home & Thriving Thursday.