Have you ever noticed that craft stores often begin putting out Christmas stuff during the summer months? In this setting, this isn't necessarily an example of "Christmas creep" or an attempt to boost early Christmas sales. It serves a practical function. If you're going to complete crafts in time for Christmas, then you often have to begin them during the summer and fall months!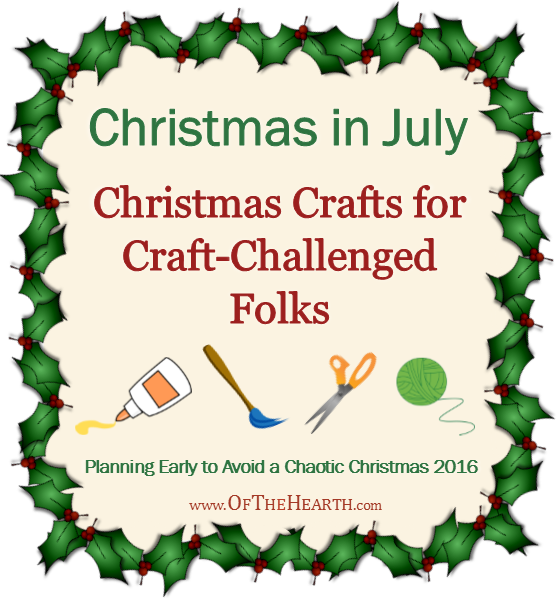 Looking ahead in this manner is the purpose of the Christmas in July series. I'm not trying to get us thinking about Christmas prematurely, but I am trying to help us plan and prepare in advance so we can avoid chaos over Christmas and maintain focus on the real reason we celebrate. (Read more about the purpose of Christmas in July here.)
I love seeing the wonderful craft projects that my family members and friends complete in order to create festive environments in their homes. Personally, I'm not that great at crafts. I'm much more likely to create a "Pinterest fail" than I am to create something I want to put on display in my home! Despite this, I often feel a strong desire to create some lovely Christmas items for my home.
Fortunately, I've found a number of craft projects that are perfect for craft-challenged individuals like me! Check out these ideas.
Simple Christmas crafts
These look wonderful, don't they? In addition to being simple, many of these crafts look affordable and/or can be made with materials I already have on hand!
Do you struggle with crafts? If so, have you found any Christmas crafts that are easy to complete? If you don't struggle with crafts, what words of encouragement can you share with the rest of us?
Shared at the following:
Weekend Wind Down, Making Your Home Sing, Monday's Musings, The Art of Home-Making, Titus 2 Tuesday, Tuesdays with a Twist, Think Tank Thursday, Wrapping Up The Holidays, and Small Victories Sunday.
Save
Save
Save
Save
Save
Save
Save
Save
Save
Save