Though it's only July, I am indeed thinking about Christmas. This isn't an attempt to contribute to "Christmas creep" (the phenomenon of retailers exploiting the commercialized status of Christmas by moving up the start of the shopping season); it's an attempt to avoid a chaotic Christmas season so my family and I can maintain focus on the real reason we celebrate.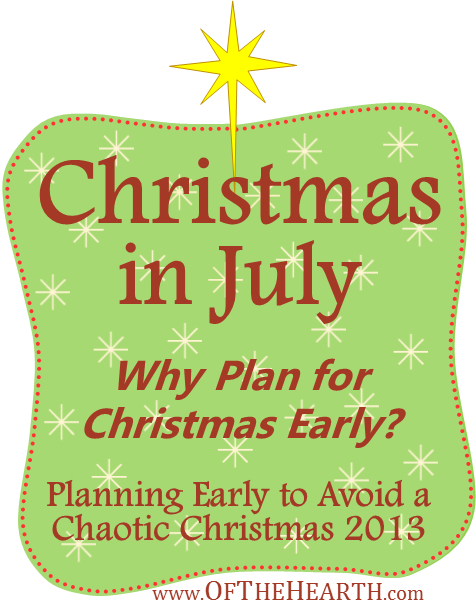 The hustle and bustle of Christmas can be very stressful. A study conducted by Greenberg Quinlan Rosner Research revealed the following:
An increase in stress during the Christmas season is experienced by 38% of Americans.
This stress is disproportionately felt by women: 44% percent of women report an increase in stress compared to 31% of men. Women report having a hard time relaxing due to preparations associated with family celebrations (e.g., gift shopping, cooking, cleaning).
Individuals of both genders who report an increase in stress around Christmas are more likely than those who don't experience increased stress to worry about money and buying gifts.
Our chief focus at Christmas should be celebrating and worshiping the Savior whose birth we're commemorating (Luke 2:1-20). I don't believe that spending time with family, eating traditional treats, exchanging gifts, or decorating are necessarily in conflict with worshiping Christ and celebrating His birth. However, we can lose perspective and begin putting too much emphasis on these activities.
An increase in stress around Christmas isn't inevitable. Moreover, time with family, traditional treats, gifts, and decorations can be used to augment our focus on Christ instead of detracting from it. This is why I'm taking steps now—months before Christmas—to plan and prepare. Join me in looking at 4 topics over the next 4 weeks.
Christmas in July 2013 topics
What is your approach to preparing for Christmas? Do you wait for the last minute or do you begin early? If you begin early, what sort of tasks are you able to address ahead of the Christmas season?