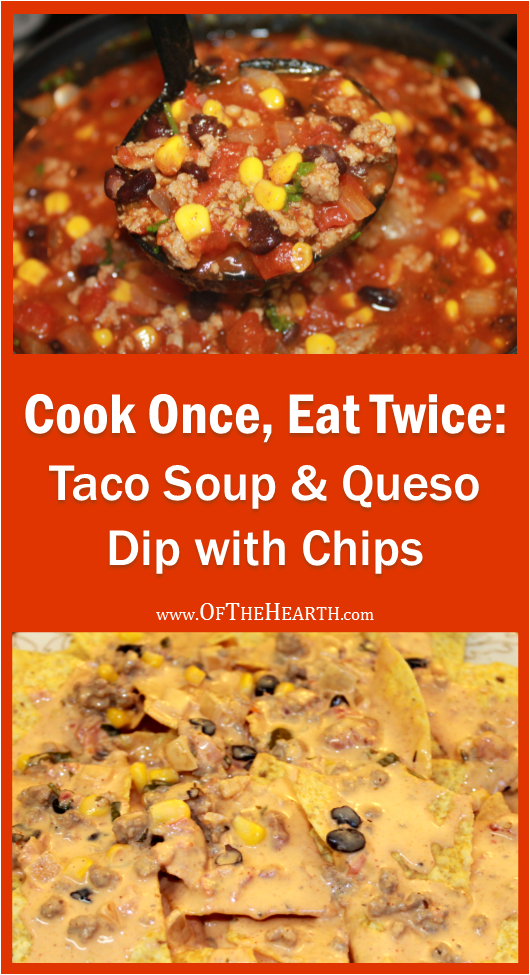 Preparing "cook once, eat twice" meals has been one approach that has really expedited my meal preparations recently. Taco soup and queso dip with chips, which I've included on our winter menu, is a pair that my whole family loves!
Ingredients
For the soup:
1 1/2 lbs. lean ground meat
1 large onion, chopped
32 oz. chicken broth
2 cups prepared black beans or one can (15.5 oz.) black beans
1 large can or carton (26 oz.) diced tomatoes
2 cups frozen corn
1/2 cup taco seasoning (or more, to taste)
A handful of fresh, chopped cilantro (optional)
1 cup shredded cheddar cheese
Crushed tortilla chips (optional)
For the queso dip and chips:
Leftover taco soup
4 oz. cream cheese
2 cups heavy cream
3 cups shredded cheddar cheese
Tortilla chips
Instructions
For the soup:
Brown the meat with the onion in a large saucepan or Dutch oven; drain the meat (if needed). Add all of the remaining ingredients except the cheese and tortilla chips. Stir to combine and bring to a boil. Simmer on medium-low heat 5 minutes or until thoroughly heated, stirring occasionally.
Top individual bowls of the soup with cheese and crushed tortilla chips (if desired) before serving. Yield: 5 servings (enjoy 4 servings immediately and reserve 1 serving for use in the queso dip).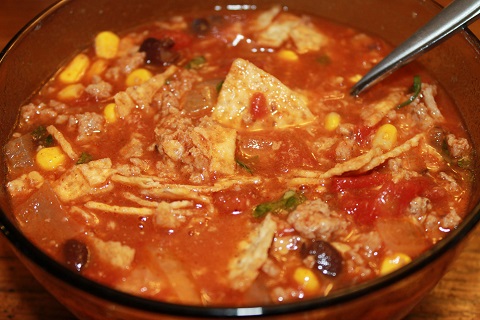 For the queso dip:
In a medium saucepan, heat the cream cheese and a splash of the cream over low heat, stirring frequently with a whisk until it takes on the texture of a thick paste.
Add the remaining cream. Slowly increase the heat to medium, stirring constantly. Once the cream mixture is warm, whisk in the shredded cheese a little at a time until it has all been added and the cheese sauce is smooth.
Stir the leftover soup into the cheese sauce. Serve with tortilla chips. Yield: 4 servings.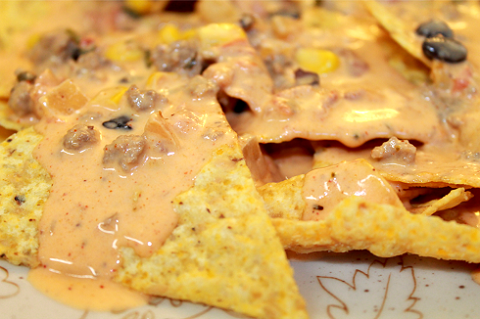 Notes
This is my favorite cook once, eat twice meal thus far. My family loves the flavors of the dishes and they are very easy to prepare. The taco soup is a very healthy dish and I'm comfortable feeding my family the queso dip on occasion even though it isn't the most nutritious meal in the world (it is homemade and lacks the yucky ingredients present in versions prepared from processed ingredients).
The ingredients for these two meals cost approximately $21.67, which is $2.71 per serving. This means these dishes are pricier than most I prepare for my family, but we love the flavors so much that it is worth the occasional splurge!
Shared at the following:
Tuesdays with a Twist and Weekend Potluck.
Save
Save
Save
Save
Save
Save
Save