September is National Preparedness Month. As we did last year, we're going to take advantage of the national emphasis on disaster preparedness to look at a couple of important topics.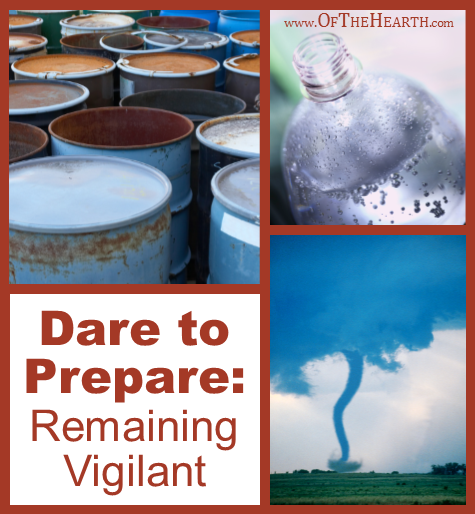 Public health experts recommend that all households create an emergency plan and assemble a basic disaster supply kit. Though these sound like good ideas to most of us, we often put them off because of busy schedules and tight budgets. Due to my experience in 2008 (going 15 days without electricity after Hurricane Ike), I know the importance of finding the time and money to see to these tasks! Additionally, Scripture teaches that it is wise to anticipate upcoming dangers and store up for meager times (Proverbs 6:6-8 and 22:3).
When I share about disaster preparedness, I often hear variations of the following comments:
"That's great information, but I don't live in a disaster-prone area."
"Those sorts of disasters don't happen here."
"The likelihood I'll need disaster supplies is really low. It's not worth the money and effort to create a kit."
While I certainly hope that none of us will soon face a disaster that requires us to utilize an emergency plan or kit, the reality is that none of us are immune from the potential of experiencing a disaster.
Keep in mind that disasters come in forms other than natural disasters (hurricanes, blizzards, earthquakes, etc.). Sometimes they take the form of a technological or industrial accident, a disease pandemic, or an act of terrorism. Still not convinced? Consider the experiences of these communities:
In early August 2014, nearly half a million residents in Toledo, Ohio found themselves unable to use tap water due to contamination caused by a toxin produced by algae. Stores as far as 50 miles away ran out of bottled water and the government had to have the National Guard bring drinking water into the city. (Read more about this incident here.) Residents with well-stocked emergency kits had no need for anxiety in this situation. They had immediate access to safe drinking water and did not have to rely on the government to deliver water in a timely manner.
In December 2012, residents of Paulsboro, New Jersey had to shelter in place because of a toxic chemical spill from a train derailment (read more here). A similar incident occurred in Louisville, Kentucky just one month earlier (read more here). Residents with well-stocked emergency kits had all the supplies they needed to secure their homes and survive being cooped up for a few days.
Whether you're at risk for natural disasters or not, you can benefit from having an emergency preparedness kit!
Getting started
I hope you will join me this month and dare to prepare by developing a preparedness plan and kit for the first time or by updating your existing plan and replenishing your supplies. Check out last year's posts to get started:
Next week we'll take a look at how to create a disaster plan.
Have you ever experienced a disaster? What challenges did you and your community face as you recovered?
Shared on the following link-ups:
Thriving Thursday, Whatever Goes Wednesday, Works for Me Wednesday, WholeHearted Wednesday, & Coffee and Conversation.