A couple of years ago I sat in church feeling a little unsettled at the number of congregants I saw around me using their phones. Were these individuals really sending text messages or checking social media during the sermon? It took me a few weeks to realize that they were actually using their phones to view digital copies of the Bible!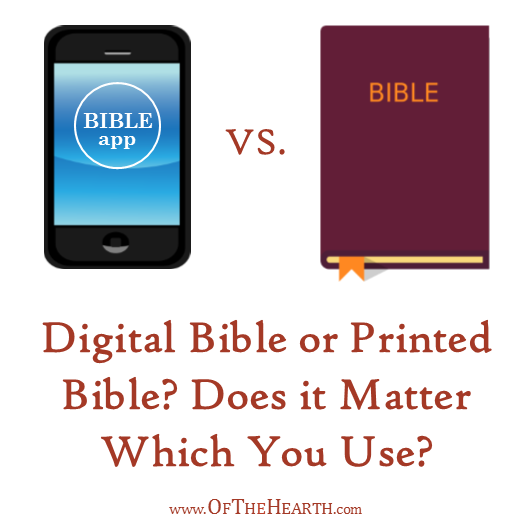 At the time this happened, I was new to smartphone technology and had no idea there were so many Bible apps available. I'm familiar with these now, but I still use a printed Bible.
A digital copy and a printed copy of the same version of the Bible contain the same words, so is there a compelling reason to choose one instead of the other?
The case for digital Bibles
I can think of a number of reasons why one would benefit from a digital Bible; however, I can also think of some reasons why it might be better to stick with a good old-fashioned printed Bible.
Benefits
Digital copies of the Bible are easy to transport and have on hand.

My hardcopy of the Bible isn't particularly huge, but it is just a little too big and heavy to haul around with me in my purse or in the diaper bag. My smartphone, on the other hand, is small and light. I carry it with me everywhere. This means that if I put a digital copy of the Bible or a Bible app on my phone that I will have the Word of God at my fingertips at all times.

Many digital copies of the Bible are free.

If I were to go to a bookstore to get a new Bible, I'd end up paying anywhere from a few dollars to upwards of $50. This is in stark contrast to the many Bible apps and digital copies of the Bible that are available for free.

It is easy to view multiple versions of the Bible, commentaries, and concordances when using an app or Bible website.

Though it's really nice to have access to tools such as commentaries and concordances while studying the Bible, it's not practical for most of us to have libraries full of these in our own homes. Several easy-to-use apps and websites provide immediate access to these tools.

Digital copies of the Bible are green.

The U.S. publishing industry is one of the least green sectors in the world, harvesting around 125 million trees each year (source). Digital copies aren't printed on paper, so they help reduce the number of trees that are harvested.
Drawbacks
It's easy to get distracted while using a digital device.

In addition to reading the Bible, there are a number of things you can do on a digital device: check email, send and receive text messages, access social media accounts, get updates from weather apps, play games, etc. The temptation to complete some of these activities may become a distraction while trying to read the Word.

The battery of the digital device might die.

If the battery on your digital device runs out and you don't have access to a charger or a power outlet, then you'll be unable to access a digital copy of Scripture. A print Bible is accessible regardless of one's access to electricity or chargers.

A digital device has a different feel than a printed book.

Of course smartphones and tablets do not feel the same as a book when you reach out and touch them, but this isn't the sort of feeling I am referencing—I'm talking about a psychological feeling. The first time I saw a pastor officiate a wedding with a tablet in his hand instead of a Bible, it seemed weird. Reading from a screen just doesn't provide me with the same satisfaction as turning the pages in a book. Quite honestly, this is probably a generational thing. Individuals born in the last 20 years may not feel this way, but those of us who grew up without cellphones, tablets, and computers may feel this way because much of this technology still feels new.
I don't believe there is one right answer when questioning if we should use digital or print copies of the Bible. Thankfully, the two are not mutually exclusive. We can utilize both, which means we'll reap the benefits of both.
Do you read the Bible on a digital device? Why or why not? Do you think print copies will someday disappear from our lives?
Shared on the following link-ups:
Fun and Fellowship, Word Filled Wednesday, WholeHearted Wednesday, Titus 2sday, Titus 2 Tuesday, Monday's Musings and The Art of Home-Making.