Though we didn't have an elaborate party to celebrate our baby girl's first birthday, we did take some fabulous photos to help preserve our memories of the occasion.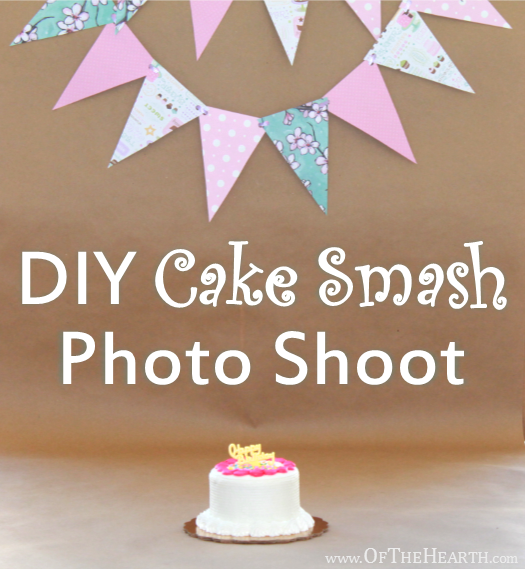 We own an excellent, easy-to-use DSLR camera (Cannon EOS Rebel T5), so we decided to take our own photos of our daughter's first encounter with cake instead of hiring a professional photographer. This was easy, affordable, and yielded some wonderful photos. Please note that this post contains affiliate links. Click here to read about what this means.
Would you like to take your own cake smash photos, too? It's as easy as 1-2-3!
Step 1: Choose a location.
Find a well-lit area (indoors or outdoors) where you can take your photos. Make sure there is a flat surface where baby can comfortably sit and that there are no shadows that distract from your subjects (the baby and cake).
I wanted to take our photos outdoors because I prefer natural light. We're still in temporary housing since our move across the country, so we don't have access to a yard. Fortunately, our apartment has a little balcony that worked well.
Step 2: Create a backdrop.
You can use a wide variety of items to create a backdrop. We used brown kraft paper because we had some on hand. Other convenient items include wrapping paper, a flat sheet, or a shower curtain. If you prefer a more sophisticated look, you can purchase an affordable photography background (such as this one that looks like vintage wood). Find a way to suspend your backdrop (hang it on the wall, drape it over the backs of a couple of chairs, etc.) and add some embellishments (balloons, streamers, etc.)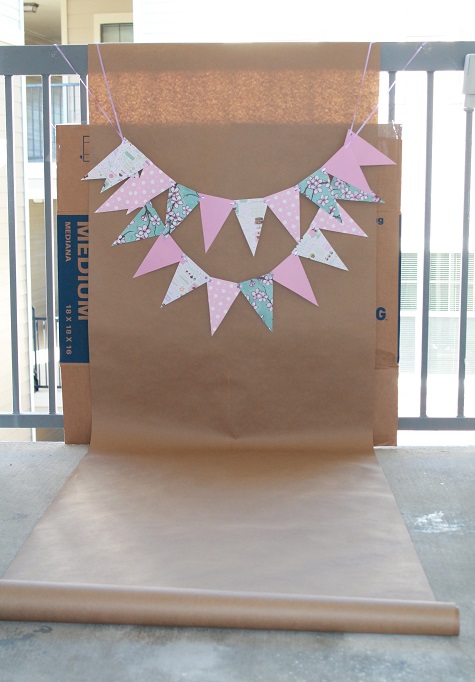 Step 3: Snap your photos.
Situate the cake and baby in front of the backdrop and begin snapping photos. You'll want to be down on the floor so you're at eye level with baby while taking these. I recommend using the portrait setting on your camera. Take lots and lots of photos because you may only get one or two really good shots for every dozen photos you take.
This slideshow requires JavaScript.
Tips
Put baby in clothes that contrast with the backdrop.

You want baby to stand out, so avoid dressing him or her in clothes that blend in with the backdrop.

Choose a cake that will stand out.

You want the color of the cake (the cake itself and/or the frosting) to be visible once it is on baby's hands and face. Chocolate cake typically stands out on children with light skin and white or yellow cake typically stands out on children with dark skin.

Take the photos after baby has napped and eaten.

Grumpy babies have a hard time during photo shoots, so it is wise to take the photos at a time when baby is rested and has a full tummy (having a full tummy also keeps baby from eating too much cake—you don't want him or her to get a tummy ache from downing too much of the sweet treat).

Be prepared to bathe baby after the photo shoot.

It's no surprise that baby will get messy during a cake smash, so be ready to run a bath as soon as you are done taking the photos.
What do you think? Are you ready to have your own cake smash photo shoot? If you have questions or tips you'd like to share, please do so in the comments section below.


Shared on the following link-ups:
Shine Blog Hop, Creative Gallery, Inspiration Spotlight, Think Tank Thursday, Coffee and Conversation, Party in Your PJs and Tuesday Talk.
Save
Save
Save
Save
Save
Save
Save