Whether it is colossal chunks of cheese, behemoth bags of beans, or cavernous cartons of cream, bulk purchases often have lower per unit costs. At first glance it appears these purchases will save money, but what if bulk purchases precipitate enough waste to negate this savings?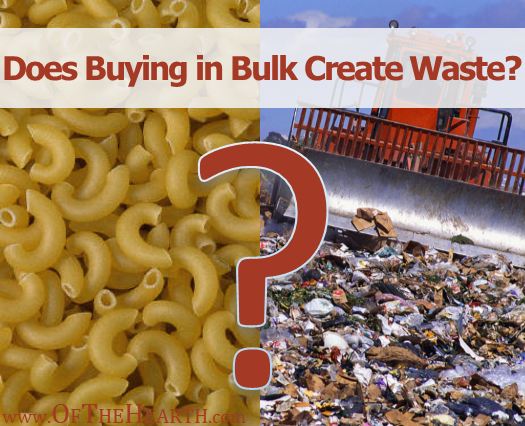 I've recently examined 3 types of waste that can result from bulk purchases.
1. Food thrown out because it couldn't be used before it spoiled
When purchased in bulk, foods that spoil quickly tend to end up in the trash. Does this really happen that often? The Natural Resources Defense Council estimates that American households throw away about 25% of the food and beverages they buy. The price tag associated with this wasted food is between $1,365 and $2,275 annually for a family of four!
What foods available in bulk quantities tend to spoil quickly?
Brown rice
Spices and dried herbs
Cooking oils
Nuts
Leavening agents
Breads and fruits should be added to this list if you don't have plans to freeze or preserve them in some manner.
2. Food consumed in excess because it's available in abundance
Researchers have found that people consume more food when it is contained in large packages. This has been found with everything from spaghetti noodles to potato chips to chocolate candies. If the food is contained in a large box or bag, people will eat from 18% to 45% more of it than if it were in a small box or bag. You can see how this can cause trouble when you purchase food in bulk! (This phenomenon also occurs with nonedible items such as laundry soap.)
You may be wondering why I consider this to be wasteful. If it's being eaten, is it wasted? Here's what happens in my kitchen: If I know I have a lot of shredded cheese on hand, I'll sometimes toss an extra handful (or two) into a dish. Even if I only toss in a little extra, it adds up after I've done it several times. If that extra amount isn't essential for the recipe, then in a sense it is wasted because it could be saved and used later in another dish.
3. Materials used to repackage foods
Many items purchased in bulk, especially perishable food items, must be repackaged before they can be stored for an extended period of time. I frequently purchase 80 oz. bags of shredded cheese. It takes us a while to go through this amount, so it would go bad if left in the fridge. Thus, we repackage it and freeze it in smaller quantities. We pull from the freezer about a week's supply at a time. We also repackage and freeze meats and fruits.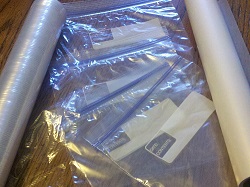 Where's the waste here? The foods have to be repackaged in something. How many plastic zipper baggies, sheets of freezer paper, etc. does it take to repackage these foods? Though these materials are being used for a legitimate purpose, in the end they do contribute to the volume of trash produced by a household.
The potential for waste will always exist, but my husband and I are making sure bulk buying is financially beneficial and environmentally friendly by following some basic principles:
Only buy what you'll use. It's wise for many of us to avoid bulk purchases of foods that spoil quickly. If you know for certain that your family will use these items before they spoil, then go ahead and take advantage of the savings by purchasing them in bulk. If you're not sure if your family will use them up, it can be helpful to plan a long range menu. This will help you estimate how much of the product you'll go through.
Only use as much of an ingredient as is needed to make each dish. Exercising restraint and not tossing in an extra handful of cheese or half cup of pasta can make purchases go a lot further.
Choose budget- and environmentally-friendly packaging options. You may not be able to avoid packaging materials altogether. If you purchase smaller quantities instead of bulk quantities, these smaller portions come contained in lots of packaging materials. At least you have options when you make bulk purchases and repackage items on your own.
Glass

. These Pyrex storage bowls are my favorites. They're reusable (and very durable), free of harmful BPA, and are oven, microwave, refrigerator, freezer, and dishwasher safe. They can effectively replace plastic storage containers and can significantly decrease, if not eliminate, your need for plastic baggies. If you happen to have glass mason jars on hand, these are excellent options, too. The linings of many jar lids contain BPA, so be sure to find a BPA-free substitute.

Stainless steel

. Reusable storage containers made of stainless steel are becoming increasingly popular (see an example here). Unlike glass, these containers can't be microwaved. They are lightweight, though, which makes them great for packing in lunchboxes.

Fabric

. You can now find snack bags and storage bags made of fabrics that are free of PVC, BPA, phthalates, and lead. These aren't as widely available as plastic bags and I haven't seen them available in larger sizes, but they are an option. I imagine additional sizes will become available if they grow in popularity.
Had you considered the potential waste associated with bulk purchases? How do you minimize the waste and maximize the benefits of buying in bulk?
Shared on the following link-ups:
Thriving Thursday, Thrive @ Home, Works for Me Wednesday, Motivation Monday, Hearts for Home, Frugal Days, Sustainable Ways & Encourage One Another.