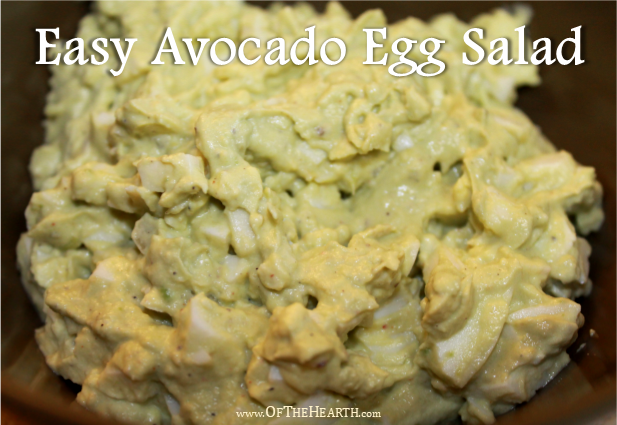 I rarely have time midday to prepare a fancy or complex lunch. For this reason, I'm always trying to come up with new ideas for easy-to-prepare meals. This is one I quickly whipped up a couple of weeks ago when we were low on groceries. It was simple, but filling and tasty.
Ingredients
4 eggs, diced
1/2 of a large avocado, mashed
1 1/2 teaspoons minced onion
A dollop of mayonnaise
A couple dashes of salt and pepper
A dash of celery seed
A pinch of cayenne pepper
Instructions
Stir together the avocado, onion, mayo, salt, pepper, celery seed, and cayenne pepper. Fold in the diced eggs. Serve in sandwiches or use to top crackers. Yield: three servings for small appetites or two servings for large appetites.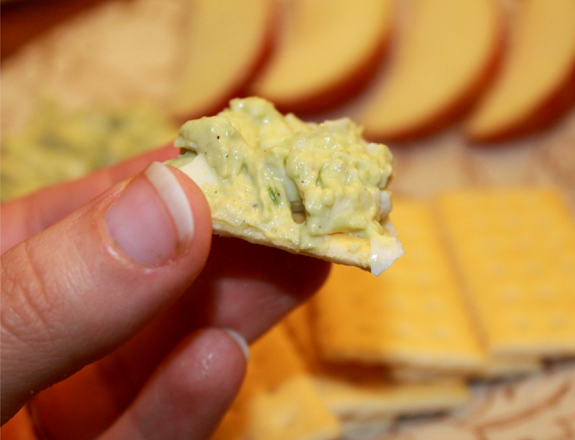 Notes
As you can clearly see, I often don't make precise measurements when I'm preparing meals. Egg salad is one of those things that I add ingredients to "until it feels right." If you're not sure how large of a dollop/dash/pinch to add, then start small. You can always add more once you've tasted it!
My girls (a 14-month-old and a nearly 3-year-old) and I ate our egg salad on crackers, but this would also be good on bread. I even dipped some apple slices in it and found that their sweetness went well with it! I may add some chopped apple next time.
You can easily customize this to suit your preferences. If you don't like mayo, then use plain yogurt, mustard, or cottage cheese. Add additional (or alternative) spices. Add some chopped celery or whatever else sounds good to you!
Given this is so affordable, tasty, and nutritious, we'll be making it again soon. How do you prepare your egg salad?
Shared at the following:
Think Tank Thursday, Weekend Potluck, What's for Dinner?, Tuesdays with a Twist, and Friday Frivolity.
Save
Save
Save
Save
Save
Save
Save
Save
Save