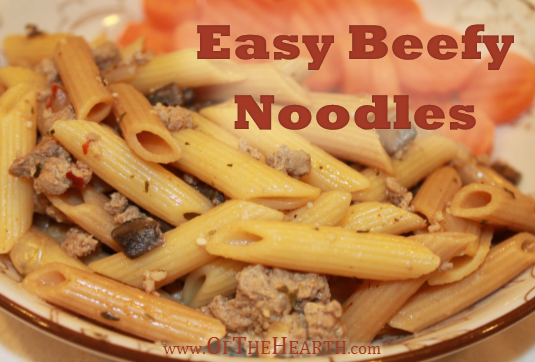 I love having a few one-pot and one-skillet recipes available for those days when I just don't have a lot of time to spend on dinner. Easy Beefy Noodles is one of these. As a bonus, it has a great flavor and is very affordable to make!
Ingredients
1 lb. ground beef
1 medium onion, chopped
2 cloves minced garlic
2/3 cup chopped fresh mushrooms
32 oz. beef broth
3 cups penne pasta (or similar pasta)
Several dashes of salt and pepper
1 teaspoon Italian seasoning mix
1 teaspoon paprika
½ teaspoon red pepper flakes
Instructions
Brown the meat in a large skillet or Dutch oven with the onion, garlic, and mushrooms; drain (if needed).
Add the broth and bring it to a boil. Stir in the pasta. Cover and simmer on medium-low heat for 10 minutes or until the pasta is tender. Season with the salt, pepper, Italian seasoning, paprika, and red pepper flakes. Yield: 4 servings.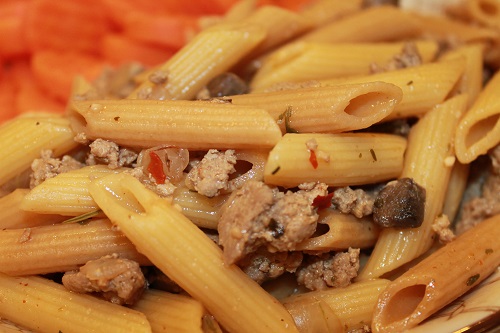 Notes
As you can see, this dish can be prepared quickly and easily. The seasonings added at the end compliment the flavor of the beef and add a little zing to the dish. Feel free to experiment with these so they are perfect for your family's taste preferences. For a creamy variation, add a bit of sour cream before serving the dish.
The ingredients for this dish cost approximately $7.90, which is $1.97 per serving. We usually serve it with a vegetable on the side, so this brings the cost to $2.15 per serving. You likely have most of the ingredients to make this tasty, affordable dish on hand, so give it a try!
What's your favorite one-pot dinner?
Shared on the following link-ups:
Weekend Potluck, Thrifty Thursday, Home and Garden Thursday, Whatever Goes Wednesday, One Project at a Time, Teach Me Tuesday, Handmade Tuesdays & Monday's Musings.
Save