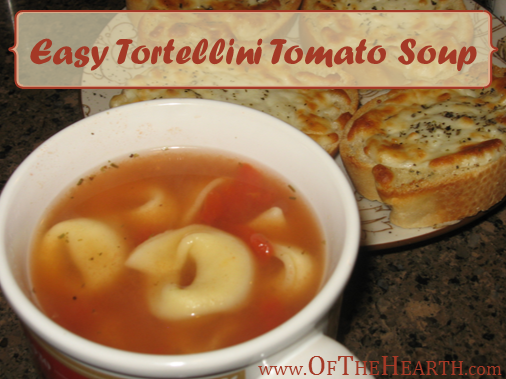 All of us need a few quick, easy-to-prepare recipes in our repertoires. This is one of those recipes. I came up with it several weeks ago when we were low on groceries and I needed to quickly prepare a meal. Surprisingly, we enjoyed the result so much that I put it on our menu for this summer.
Ingredients
32 oz. chicken broth
1 cup water
1 package (16 or 19 oz.) frozen cheese tortellini
1 can (14.5 oz.) Italian diced tomatoes
A couple dashes of Italian seasoning
Instructions
Place the chicken broth and water in a Dutch oven or a large pot and bring it to a boil. Add the cheese tortellini. Boil for 3 minutes (or for the duration recommended in the instructions on the tortellini package). Reduce the heat to low. Stir in the Italian diced tomatoes and Italian seasoning. Simmer for 2 minutes. Yield: 5 servings.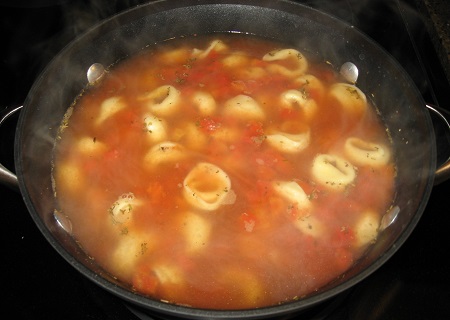 Notes
It doesn't get much easier than that, does it? The beauty of this dish is its simplicity. Despite being simple, it's quite tasty. If you'd like to give it a little pizazz, add some garlic and onion, top it with parmesan or mozzarella cheese, or mix in some Italian sausage.
As you can see from the first picture in the post, I like to serve cheesy bread with the soup. The ingredients for the soup cost $4.76, which is only $0.95 per serving (this price includes everything but the Italian seasoning, which is staple in my house). With cheesy bread served as a side, the cost per serving increases to $1.37. Because this soup requires so few ingredients and can be prepared quickly, it's an excellent dish to keep in mind for those times when visitors stop by unexpectedly.
Shared on the following link-ups:
One Project at a Time, Handmade Tuesdays, Frugal Crafty Home, Weekend Potluck, Whatever Goes Wednesday and Saturday Show & Tell.