I didn't spend that much time thinking about femininity until I had my daughter. Femininity is one of many things I want to model for her. I've never fit the stereotype of a "girly girl," so this is a little intimidating.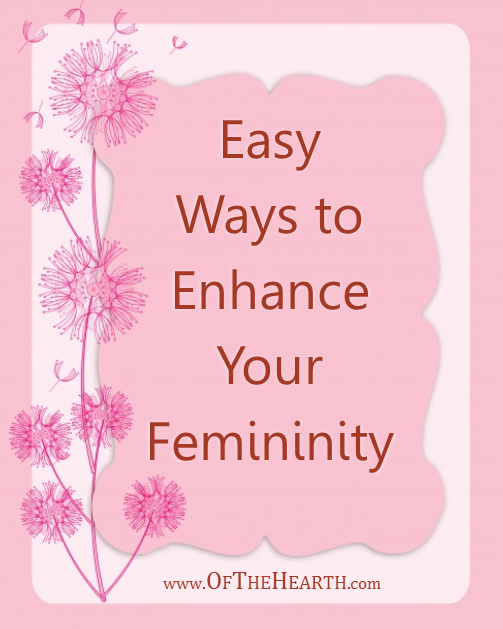 Thankfully, I don't think that being feminine is about wearing lots of pink or painting your nails. Femininity is defined as the quality or nature of females. It is the collective attributes and behaviors that characterize women.
With this definition in mind, what are some easy things we can do to enhance our femininity?
Easy ways to enhance femininity
Behave like a lady.

Simple, ladylike behaviors such as allowing men to open doors for us, practicing common courtesy (e.g., saying "please," "thank you," "pardon," or "excuse me" when appropriate), and dressing suitably for the occasion do a lot to heighten our femininity.

Speak considerate words.

When women open their mouths and speak profanity, lies, and unwarranted criticisms, the harshness and ugliness of their words eclipse their femininity. If, on the other hand, we follow the Biblical mandate to speak in ways that build others up (Ephesians 4:29), the beauty of our words will highlight our femininity.

Smile.

There's nothing feminine about a frown or scowl. Simply putting smiles on our faces will brighten them, giving us softer appearances and joyful auras.

Wear flattering clothes.

Though we want to dress modestly and we want our beauty to come from the inside (1 Peter 3:3-4), we don't have to wear dowdy clothes that make us unattractive. Because we come in various shapes, sizes, and skin tones, different cuts of clothing and colors flatter our bodies. With a little research and experimentation, we can identify the various styles and colors that flatter our respective bodies.

Use skin care products and cosmetics judiciously.

Depending on how we use them, skin care products can augment or detract from our femininity. Lightly sprayed perfume or body spray can give us a feminine scent. Small amounts of makeup can complement our natural appearances (though this is true, I do prefer not to wear makeup). Moisturizers and lotions can help keep our skin hydrated and soft.

Emulate the Proverbs 31 woman.

I know this sounds cliché, but hear me out. The 31st chapter of Proverbs is the only place is the Bible where we see a lengthy description of an estimable woman. If this is what a woman should be, then she epitomizes femininity. This means that we, too, will exude femininity if we follow her example in being virtuous, trustworthy, hardworking, generous, economical, prudent, honorable, and God-fearing.
I'm excited to see how these simple strategies can help me grow as a woman. Are you as feminine as you'd like to be? If not, how do you try to grow in your femininity?


Shared on the following link-ups:
Faith Filled Wednesday, Titus 2sday, Titus 2 Tuesday, Monday's Musings, The Art of Home-Making, Making Your Home Sing, Blog Fair, Faith and Fellowship and Shine Blog Hop.
Save