Do you love vegetables or do you view them as necessary evils? I really enjoy a number of them, but there are also many that I don't like. My husband enjoys far fewer than I do, so we struggle to eat recommended amounts of these very important foods.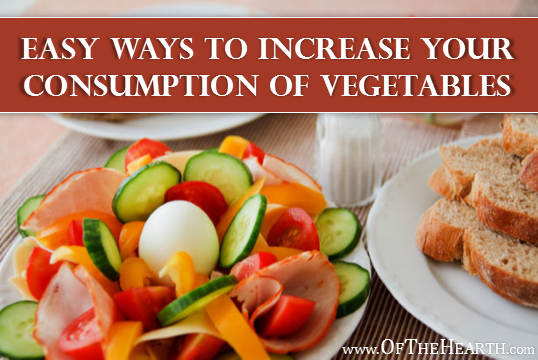 Because the health benefits of diets rich in vegetables are so significant (decreased heart disease risk, decreased cancer risk, etc.), it's important that we find ways to enjoy them. With a little planning, this is actually quite easy.
Ways to increase vegetable consumption
At breakfast
Make veggie-rich omelets.

Numerous vegetables, including onions, peppers, mushrooms, and spinach, go great with eggs. Topping an omelet with pico de gallo or salsa adds some tomatoes.

Prepare veggie pancakes or waffles.

Include pureed or grated vegetables (carrots, zucchini, sweet potatoes, etc.) when you prepare pancake or waffle batter. When you include small amounts of veggies, they are practically indiscernible. When you include large amounts of veggies, they give pancakes and waffles a great savory flavor!

Top breads with veggies.

Spread cream cheese or ricotta cheese on your toast, bagel, or English muffin, then top with sliced tomatoes, cucumbers, or avocado. This adds an exciting touch to otherwise boring bread.
At lunch
Stuff your sandwiches with veggies.

Vegetables are great on sandwiches! You can have an all veggie sandwich or top your meat and cheese sandwich with them. Veggies traditionally used on sandwiches include lettuce or spinach, tomato, cucumbers, onion, and bell peppers. Use these or get creative with avocado, sprouts, eggplant, or whatever strikes your fancy.

Use lettuce leaves instead of bread for sandwiches and wraps.

When having a sandwich or wrap, you can always ditch the bread and use lettuce instead. I like this option because I enjoy the crunch lettuce provides and it always seems refreshing on a warm day.

Make veggie-rich soups.

It's easy to pack lots of vegetables into soups. Chop up whatever veggies you have on hand (carrots, celery, broccoli, green beans, potatoes, peppers, cauliflower, etc.) and toss them into your soup.

Eat salads loaded with veggies.

Salads aren't just a favorite food of dieters. They are an incredibly diverse option! You can make them out of just about any combination of vegetables. You can add meats and cheeses if you desire these hearty additions.
At dinner
Add veggie purees to sauces and casseroles.

Pureed carrots, sweet potatoes, cauliflower, squash, and other vegetables can be used to add nutrients to sauces and casseroles. Use a small amount of puree if you want it to go unnoticed or use a large amount to add flavor to your dish.

Use veggies in place of pasta or potatoes.

Spaghetti squash and julienned zucchini make great substitutes for spaghetti. You can top them as you would traditional pasta. Potatoes aren't unhealthy per se, but their nutritional composition leaves them classified as a starch (like bread or pasta) instead of a vegetable. Try substituting mashed cauliflower, carrots, butternut squash, or rutabagas for potatoes.

Top pasta with veggies.

Whether you use traditional pasta or spaghetti squash, you can use vegetable-rich sauces. Veggies such as peas, baby spinach, and chopped broccoli are wonderful when mixed into marinara and Alfredo sauces. These veggies are also easy to work into pasta salads.

Make veggie-rich pizzas.

Many vegetables go well on top of pizza: tomatoes, spinach, peppers, onion, mushrooms, roasted cauliflower, eggplant, etc. You can also use vegetables such as cauliflower to make your pizza crust.

Add veggies to meatloaf and meatballs.

Finely chopped vegetables such as carrots, zucchini, and celery or vegetable purees add flavor and moisture to meatloaf and meatballs. They are an affordable way to expand these dishes and they'll likely go unnoticed by those eating them.

Place veggies on the grill.

Meats are typically what come to mind when you think of grilling, but grilled vegetables are amazing! Use a skewer or grilling basket and grill whatever sounds good. My favorite veggies to grill are bell peppers, zucchini, summer squash, and tomatoes.
At snack time
Add veggies to smoothies.

When blending a smoothie, toss in some vegetables (kale, spinach, carrot, etc.). These veggies likely won't change the flavor of the smoothie, but they'll add nutrients.

Dunk sliced veggies.

Chop up your favorite vegetables and keep them available in the fridge for snacking. Dunk them in your favorite dip (hummus, salad dressing, yogurt, etc.) for added enjoyment.

Make veggie-rich salsas.

Salsas are made with vegetables (traditionally tomatoes, onions, and hot peppers). Numerous vegetables can be added to these to yield a yummy flavor. Eat with tortilla chips for a filling snack.

Bake some veggie chips.

For a tasty and nutritious snack that will satisfy a craving for salty foods, make vegetable chips. Thinly slice beets, sweet potatoes, zucchini, and parsnips. Toss in oil and sprinkle with salt and garlic powder. Bake at 375° for 15-20 minutes.
I realize that some of the vegetables mentioned here are actually fruits (e.g., avocados, squash, tomatoes), but I'm including them because they are considered vegetables from a culinary standpoint.
What things do you do to make sure you consume sufficient vegetables?
Shared on the following link-ups:
Teach Me Tuesday, Living Proverbs 31, Motivation Monday, Making Your Home Sing, Saturday Soiree and Shine Blog Hop.