You can generally prepare a homemade meal for the entire family for the price of one entrée at a restaurant. Subsequently, if you're on a tight budget, then eating out probably isn't something you should do very often!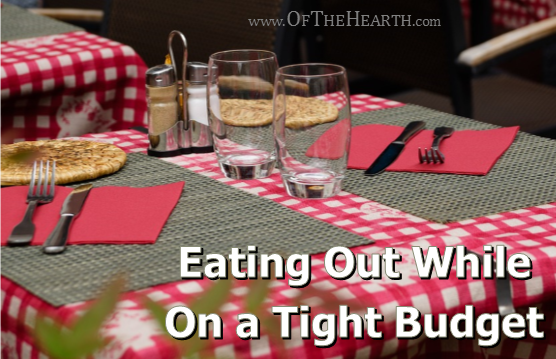 This is a somewhat discouraging reality for many of us. My household is on a tight budget, but we really enjoy getting to eat out on occasion. It provides a change of pace from our typical menus and it gives me a break from cooking and washing dishes.
Thankfully, eating out doesn't have to cost a fortune. There are a number of strategies we can use to make eating out affordable.
How to save money when eating out
Order water to drink.

If you order a soda, iced tea, or lemonade while eating out, you'll likely pay around $2 for your drink. If more than one member of the family orders a drink, then your beverage tab will add up very quickly! Consider ordering water instead. Tap water is a free beverage in most restaurants and most of us need to drink more water anyway!

Eat out for lunch.

Many restaurants feature lunch menus or lunch specials that are less expensive than their dinner counterparts. You can save a bit of money just by eating out earlier in the day.

Share entrees.

It's pretty common for restaurants to provide large servings—large enough that many of us can't finish them in one sitting! If you are visiting one of these restaurants, then plan on splitting an entrée with another person in your family. If you don't want to share, then plan on eating half of the entrée now and taking half of it home for lunch tomorrow.

Forgo kids' meals.

Though kids' meals are convenient, they're often pretty expensive given what they contain. Depending on how much your child eats, it may be a better idea to have him or her share an entrée with an adult or to order a side dish as a meal. Likewise, if you have two or more children, it's often more affordable to purchase an adult entrée or two for them to share than to purchase each child his or her own kids' meal.

Learn when kids eat free.

At some restaurants you don't have to worry about the cost of feeding your kids if you visit on certain nights. This is because these restaurants have special offers where you can get a free kids' meal with each adult entrée you purchase. Learn which nights these offers stand and plan to eat out on these days.

Take advantage of coupons and dinner for two deals.

Restaurants often make coupons available for patrons. Look in your local newspaper, check the coupon bundles you receive in the mail, and search daily deal sites for these. Also, consider following your favorite restaurants on social media because they often make exclusive coupons and specials available on these platforms. Many restaurants offer dinner for two deals (e.g., 2 for $20 appetizer and entrée combos). These may or may not be part of their regular menus, so check the websites of your favorite restaurants to see what they have available.

Skip the extras.

Appetizers and desserts significantly increase the price of a meal. If you pass on these, it's easier to keep the price of your meal reasonable. If you really want an appetizer, consider going to a restaurant that offers complimentary chips and salsa, rolls, or something similar that you can munch on while waiting for your meal. If you really want dessert, plan on eating something sweet once you return home.

Sign up for birthday freebies.

Many restaurants offer free food to patrons on their birthdays. If you don't mind sharing your birthdate and email address with these restaurants, then you can have access to lots of free food on and around your birthday each year!
What strategies did I miss? What do you do to keep costs down when eating out at restaurants?
Shared at the following link party:
Monday's Musings, Friday Frivolity, Share the Wealth, Small Victories Sunday, and Tuesday Talk.