The weather is still pretty warm where I live, but the calendar indicates fall is quickly approaching. Among other things, this means my household is ready for a new monthly menu! You may recall that I periodically develop monthly menus. We use each for 3 consecutive months before moving on to a new one (you can read more on why I plan monthly menus here).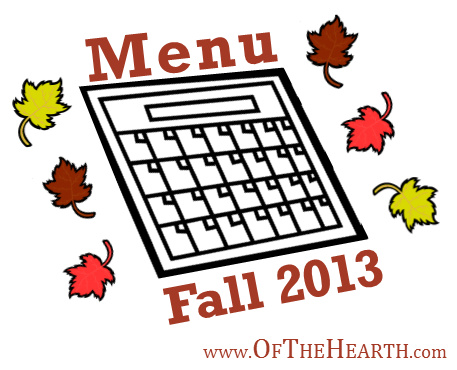 Our menus only include dinner selections because we almost always eat leftovers with a side of fruit for lunch. For breakfasts I usually make a few items on the weekends and freeze them for easy preparation on busy weekday mornings. Our recent favorites include mini breakfast stratas, honey wheat butterhorns, and breakfast sandwiches.
My goals when planning this menu were to have at least one meatless dinner each week and to eliminate the need for canned foods. Eating meatless dinners is an easy way to save a little money on groceries (we get so much protein through other foods that we don't even notice it when we go without meat for a few days!). Eliminating canned foods is one step we're taking to avoid BPA. Obviously there are plenty of healthy foods that come in cans (e.g., beans, tomatoes). We're not trying to avoid these, we're just trying to avoid BPA-laced versions of them. Thus, I've been soaking and cooking my own beans and we've found an alternative to canned tomatoes.
Week 1
Week 2
Week 3
Week 4
Over the next few weeks I'll post recipes for some of the dishes on the menu. Are you curious about the recipe for a particular dish? Let me know in the comments section so I can be sure to post that recipe.
What have you been eating for dinner lately? What recipes are you eager to try this fall?
Shared on the following link-ups: