Our summer has been quite busy, so we're looking forward to a less eventful fall. We're also looking forward to a new menu!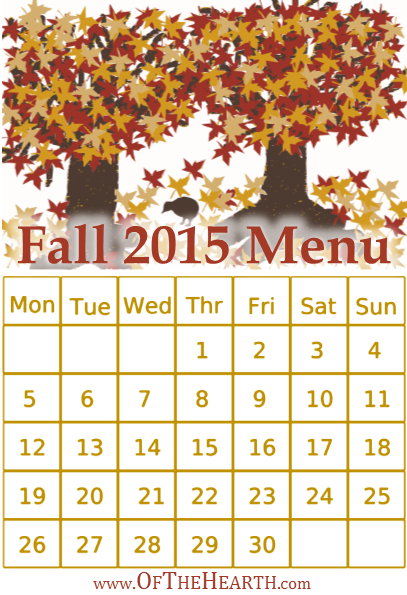 I've explained previously about my menu planning process. In short, I periodically develop monthly menus. We use each for three consecutive months before moving on to a new one.
I only plan dinners on our menus because we almost always eat leftovers with a side of fruit for lunch. I try to include one meatless dinner each week to save us a bit of money on groceries. For breakfasts, I typically make a few items on the weekends and freeze them for easy preparation on busy weekday mornings.
Here are the yummy dinners we'll be eating this fall.
Week 1
Week 2
Enchiladas, corn
Spaghetti with meat marinara sauce, green beans
Grilled chicken, seasoned orzo, carrots
Sloppy Joe sandwiches, green beans
Wisconsin macaroni and cheese, carrots
Pepperoni pizza, green beans
Open
Week 3
Week 4
Over the next few weeks I'll post recipes for some of the dishes on this menu.
What will you be eating this fall? What new recipes are you eager to try?
Shared on the following link-ups:
A Little Bird Told Me, Titus 2 Tuesday, The Art of Home-Making, Living Proverbs 31, Making Your Home Sing, Saturday Soiree, Inspiration Spotlight and Creativity Unleashed.