One of the things I appreciate most about marriage is having a good friend who I see and speak with every day.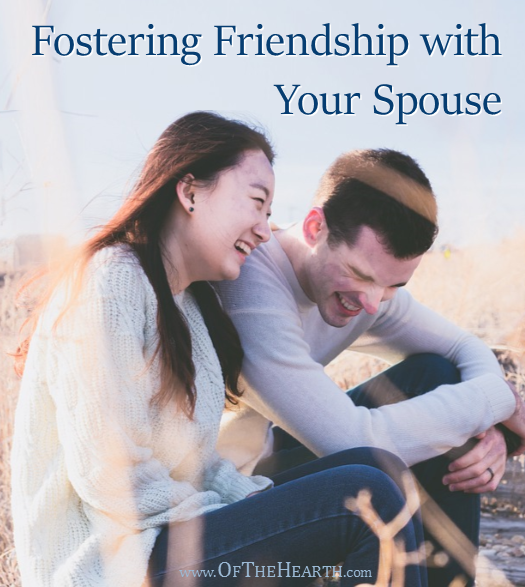 Back when we first got married, my husband and I found it easy to cultivate our friendship. However, as the demands on our time and energy have increased—particularly since becoming parents—we've found it challenging to invest in each other as friends.
I believe these four things promote the growth of friendship in marriage. They're helping my husband and I grow in friendship and they can do the same for you and your spouse.
How to grow in friendship with your spouse
Share about concerns, disappointments, victories, and dreams
Communication and sharing are two hallmarks of friendship. These may look different between different sets of friends, but there is some communication and sharing that takes place. In marriage, it's easy for these to get stalled at a practical level:
"We need to pick up toilet paper from the store."
"What's on your to-do list for this weekend?"
"Has she outgrown her shoes already?"
Practical communication and sharing are necessary to complete the tasks of everyday life, but they don't do much to promote friendship. On the other hand, when we take time to share the things that are on our hearts, it helps us connect and grow in our understanding of one another. It often takes a little work to find opportunities to share about these things, but it's worth it!
Encourage and challenge one another
Once friends have shared about the things on their hearts, they often encourage each other in areas where they are down and challenge each other in areas where they need to grow. We should do this within our friendships with our spouses, too. It shows that we care and believe in each other. Moreover, it provides opportunities for iron to sharpen iron (Proverbs 27:17) and for us to work together to achieve outcomes.
Explore shared interests
Friends often take part in activities together. Doing so provides opportunities to visit and spend time together while having fun. In marriage, often we spend our time completing everyday tasks like weeding the garden, folding the laundry, and shopping for groceries. There's no reason we can't connect and enjoy each other during commonplace activities like these, but it is so valuable to discover and take part in shared interests that are outside of our everyday activities (e.g., playing tennis, trying new restaurants, visiting museums, camping). Doing this gives us times of fellowship with our spouses where stress and distractions are minimal.
Laugh together
Friends often laugh because they tease one another, tell funny stories to each other, and share "inside jokes." Laughter strengthens the bond of friendship by helping friends connect, have fun, and recharge together. We desperately need this with the friends who are our spouses because the issues we face in daily life are often heavy and stressful! Because we share so much with our spouses, there should be no shortage of funny memories and inside jokes or of things to tease each other about (lighthearted, non-hurtful teasing, of course).
Final thoughts
Though I've been implementing these strategies, I always keep in mind that I can't take the place of my husband's buddies, nor can he take the place of my female friends. It's very important for us to invest in these friendships, too. For that matter, it's also beneficial for us to seek out friendships with other couples. All of these are important and play roles in strengthening our marriage.
Do you feel like you and your spouse are friends? How do you maintain and enrich this friendship within the chaos of everyday life?
Shared at the following:
Monday's Musings, Literacy Musings Monday, Tuesday Talk, Coffee and Conversation, Tune in Thursday, From Messes to Messages, and The Art of Home-Making.
Save
Save
Save
Save
Save
Save
Save
Save
Save
Save