The biggest football game of the year is just over a week away. Traditional game day snack menus feature everything from fried chicken and bacon-wrapped cocktail weenies to loaded nachos and pizza. While some of these options are tempting, I'm considering some healthier alternatives. I will not pretend the selections featured below are as healthy as something like a rice cake topped with a couple tablespoons of low fat cottage cheese, but they are (1) foods my husband will actually eat and (2) better options than the traditional treats noted above.
Baked Hot Wings with Cilantro Lime Dip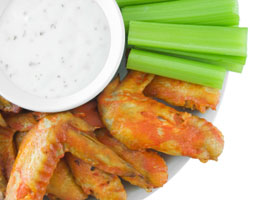 The sweet and savory flavors of apricot preserves and Thai-style chili garlic sauce accompanied by a cilantro lime dip? I've got to give these a try! It looks like it'd take a little effort up front to strip the skin off the wings before baking, but the rest of their preparation appears to be a cinch.
Healthier Queso Dip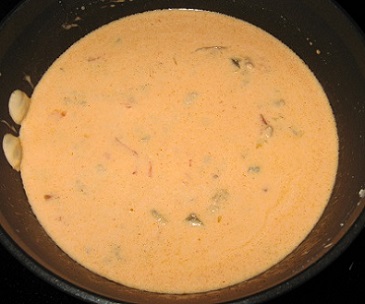 This dip is a favorite in my house! It's creamy and flavorful, but free of processed cheese. Friends rave about it whenever we bring it to a party.
"Broccomole" Dip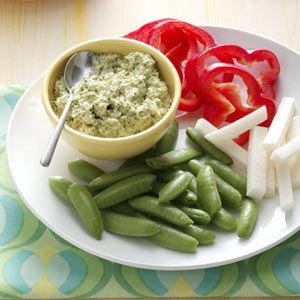 I'll confess that I hesitated when I read that the primary ingredient in this dip is broccoli, but then I saw that its average rating is 4 out of 5 stars. Now I'm super curious. Even with a little sour cream and mayonnaise in the dip, it remains very low in fat.
Potato Skins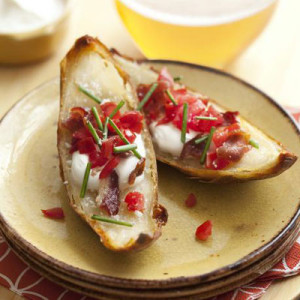 This twist on a traditional game day food is relatively low in calories and fat. With bacon and sour cream among their ingredients, they appear to still be flavorful.
While looking for recipes I came across an interesting idea: use a kebob stick or skewer approach to present foods to help with portion control. Skewers can only hold limited portions, but because you are pulling food off a stick and eating it piece by piece it can seem like a large amount. You can put a number of different foods on skewers—veggies with meets, fruits and cheese cubes, mozzarella balls with grape tomatoes—helping foster consumption of much-needed fruits and vegetables.
You can find more ideas on OF THE HEARTH's Pinterest page. What will you snack on during the game?