My husband is dissatisfied with the breakfast sausage available where we shop for groceries. We've tried every brand they sell, but he's always been disappointed.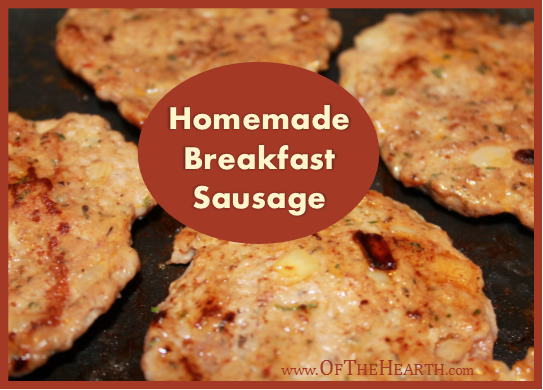 While he was searching for breakfast ideas a couple of weeks ago, he came across a recipe that he asked me to try. I was more than happy to do so and I'm so glad I did! The sausage is very flavorful and I love knowing exactly what is in it (no MSG, corn syrup, etc.).
Ingredients
(Adapted from this recipe at Happy Money Saver.)
1 lb. ground pork
1 lb. ground turkey
1/2 cup pureed or finely chopped onion
2 teaspoons maple syrup
2 teaspoons parsley flakes
2 teaspoons sea salt
1 teaspoon ground sage
1 teaspoon chili powder
1 teaspoon black pepper
1 teaspoon dried basil
1 teaspoon dried oregano
1/2 teaspoon red pepper flakes
1/2 teaspoon dried thyme
Instructions
Place all of the ingredients in a large bowl and mix until combined thoroughly. You can do this by hand or you can do what I did and let your stand mixer do the work with a dough hook attachment.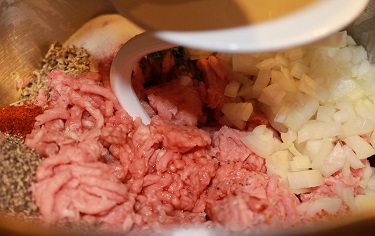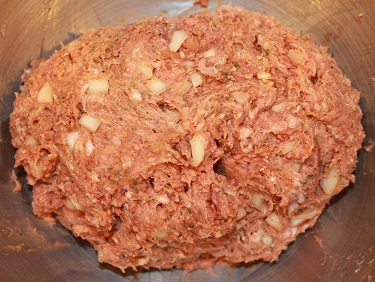 At this point you have three options:
Cook the sausage right away. Shape the sausage into patties and cook them over medium-high heat in a heavy skillet or on a griddle. Cook them until nice and brown so they no longer have pink in the middle. Leftover cooked patties can be frozen for later use.
Freeze the sausage in patties. Shape the sausage into patties, then place in one layer on a baking sheet lined with parchment paper. Freeze the patties, then remove them and place in a freezer bag. Pull the patties from the freezer and cook them as you need them.
Freeze the sausage in a roll. Form the sausage into a roll. Wrap it in plastic wrap and freeze it. To use, thaw the roll, slice it into patties, and cook.
To make uniform patties, place some of the meat between two layers of plastic wrap or parchment paper. Use a rolling pin to roll out the sausage to your desired thickness. Remove the top layer of plastic or paper and use the top of a drinking glass to cut out perfectly round sausage patties. Use a thin spatula to move the patties to a skillet for cooking or a baking sheet for freezing.
Yield: 2 pounds of sausage or about 16 sausage patties.
Notes
My husband and I were both very pleased with the flavor of this sausage. As we continue to make it, we will likely experiment with the seasonings. In fact, next time I will probably use less sage and some additional red pepper flakes. I hope you will customize it to your taste preferences, too.
The ingredients for this sausage cost approximately $8.97, which is $0.56 per patty. A leading sausage brand (Jimmy Dean®) available at our local grocery store costs $4.97 per pound. This means that the homemade variety costs $0.49 less per pound. So, in addition to being able to control the flavor and contents of the sausage, you may save a little money by making it yourself. It really is quite easy. Give it a try!
Shared on the following link-ups:
Creativity Unleashed, Thrifty Thursday, Handmade Tuesdays, Frugal Crafty Home, Motivation Monday, Making Your Home Sing, Saturday Soiree, What's for Dinner?, Weekend Potluck & From House to Home.
Save