Though my husband enjoys most of the foods I prepare, he rarely stops in his tracks over the flavor of one. A couple of weeks ago this rare reaction occurred after he took a bite out of a breakfast sausage link encased in a honey wheat butterhorn. I have a feeling I'll be making lots of these over the coming months!
Ingredients
(Adapted from the Whole Wheat Butterhorns recipe from Taste of Home.)
3 cups white whole wheat flour or a half and half mixture of whole wheat and unbleached white flours
2 1/4 teaspoons rapid rise yeast
1/3 cup coconut sugar or brown sugar
2 tablespoons honey
Dash of salt
1/4 cup melted butter
1 cup warm water
Cooked breakfast sausage links (optional)
Instructions
In a large bowl combine the flour, yeast, sugar, honey, and salt. Heat the water and melt the butter.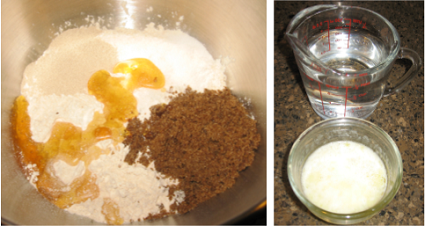 Add the water and butter to the flour mixture and mix together until a soft dough forms (it will be slightly sticky). Cover loosely and let rest for 10 minutes.
Turn out onto a lightly floured surface and roll into a 12-14 inch circle. Cut into 16 wedges.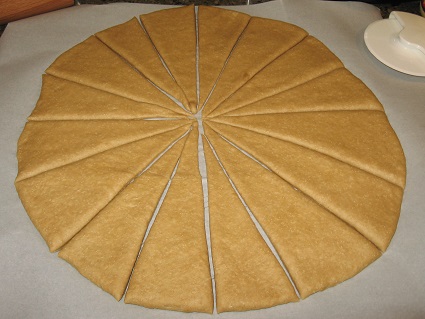 Roll into crescent shapes (cooked sausage links can be rolled into the middle of the crescents, if desired). Place the butterhorns on a parchment paper-lined baking sheet (or a lightly greased baking sheet). Cover loosely and allow to rise in a warm place for 30-40 minutes or until double in size.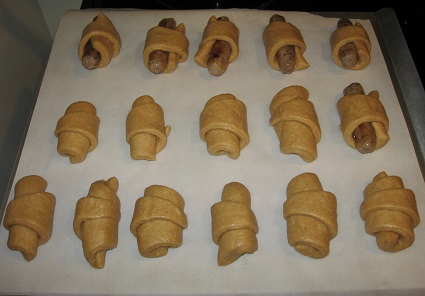 Bake at 400 degrees for 10-15 minutes or until golden brown. Yield: 16 rolls.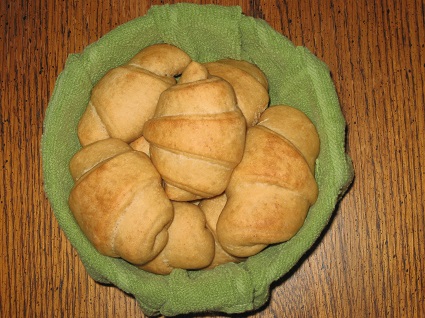 Notes
We eat the butterhorns that contain sausages for breakfast and use the remaining ones as dinner rolls. They have a slightly sweet flavor, so we don't add additional butter to ours at the table (you can if you really love butter, though, or you can brush them with butter when you first pull them from the oven). Their sweet flavor is a perfect complement to the savory flavor of sausage!
All of the ingredients for these butterhorns are things I typically have on hand, but I calculated the cost of them anyway. The ingredients for the butternhorns cost $1.68, which is just $0.11 per roll! (This price includes everything but the salt.) The rolls that contain a sausage link cost $0.51 per roll. They're super tasty, relatively healthy, and super affordable!
Have you tried any great bread recipes recently? What did you make?
Shared on the following link-ups:
Weekend Potluck, Share Your Creativity, Saturday Show & Tell, Frugal Days, Sustainable Ways, All My Bloggy Friends,  Teach Me Tuesday, Domestically Divine Tuesday, Monday's Musings, Living Proverbs 31 & T.G.I.F.