I am so grateful for the house my husband and I own. We are blessed to have a home we can afford that is cozy and has every feature we need. Though we are quite pleased with it, you'll never see it grace the cover of a home decorating magazine. Why? There is nothing remarkable about the architecture of the house, certain features disclose the age of the property, and many of our walls are bare as they await the purchase or creation of creative wall hangings. Moreover, we have a tight budget, so our furnishings, while sufficient and comfortable, tend to be humble.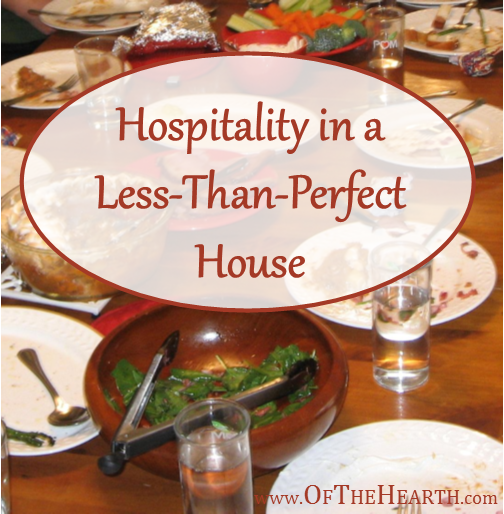 Despite these lackluster qualities, we believe it is beneficial to have guests over to share meals and fellowship. Due to my human nature—notably pride—I sometimes feel insecure when guests are coming over. Will they notice the mismatched serving dishes? Are they bothered by the exposed pipes under the bathroom sink? As I think about it right now, these concerns seem trivial. There are times, though, that they feel significant. Thus, I've been searching for some encouragement.
Inspiration for hospitality in a less-than-perfect house
Hospitality is not about the features in a house, home décor, or cooking abilities

. Hospitality is about opening your home to others, whether invited or uninvited, to minister to them and fellowship with them.

A simple home with a low-maintenance environment can actually help facilitate hospitality

. It is easier to handle spills and lots of traffic with furniture and carpet if you are not worried about damaging expensive or irreplaceable items. Additionally, wall hangings and knickknacks don't have to be designer pieces. They don't even have to be well coordinated. If these pieces illustrate something about you—your heritage, where you've traveled, gifts from loved ones—then they are a way to share about your family with your guests.

Ask the Lord to help you focus more on people than on things or tasks

. Pray the Lord will help you focus on your guests and not on less consequential matters such as imperfections in your house. Engage your guests in meaningful conversation to keep the attention on your interactions.

If there are aspects of your home you'd like to deemphasize, try distracting attention away from them instead of covering them

. If you attempt to hide imperfections, such as a stain on the carpet or chipped dishes, you might actually draw more attention to them. Try emphasizing a lovely feature that might draw attention away from the imperfections instead. You can create a nice centerpiece, light some candles, or use accent lighting to create a point of interest away from an unsightly feature.

Keep the images you see on design shows, in magazines, and on Pinterest in perspective

. You know those beautiful table spreads that are featured? Why do you think they are there? They weren't selected because they are typical or easy to replicate. They have some characteristic that makes them remarkable. That's why they were eye catching and selected to be featured. Don't feel like these are the norm. Your home doesn't have to look like them to be welcoming.
These encouragements have helped me in those moments when I've felt insecurities regarding having company over. I'm so glad I moved beyond the insecurities because my husband and I have had wonderful times of fellowship with guests in our home. I'd hate to miss out on the laughter, the edification, and the "iron sharpening iron" moments due to concerns about features that are ultimately insignificant.
Have you ever felt insecure about having guests in your home? What has helped you get over your insecurities?
Shared on the following link-ups:
Saturday Soiree, Think Tank Thursday, Coffee and Conversation, Tuesday Talk, Titus 2sday, Living Proverbs 31, Welcome Home Wednesdays, Thrive @ Home, and Essential Fridays.