Last week I shared some price comparisons that debunked the myth that healthy foods cost more than unhealthy foods.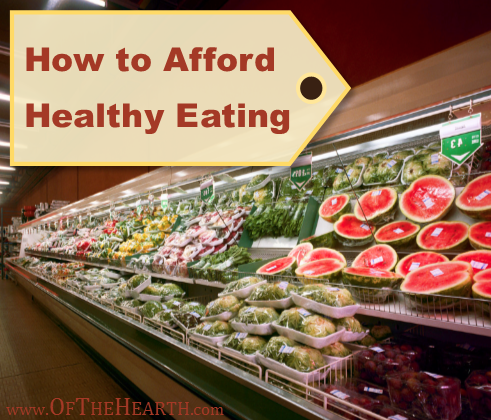 Of course, if you shop carelessly then it is unlikely you'll be able to purchase nutritious foods for the same price as junk foods. However, by judiciously enlisting some simple strategies, you can eat healthily and stay within budget.
How to afford healthy foods
Roll up your sleeves

. To eat healthily on a budget, you're going to have to roll up your sleeves and invest some effort. Skip the precut fruits and vegetables and cut your own ($6.49/lb. for precut broccoli and cauliflower florets vs. $1.99 lb. for broccoli crowns and $3.49/lb. for a head of cauliflower). Ditch sugary cereals for homemade breakfasts that can be eaten on the go. Make your own cheese sauce to substitute for processed cheese products like Velveeta® (see the recipe here).

Be careful with coupons

. Coupons certainly can save you money, but most coupons are for less healthy foods. I just took a quick look at coupons.com and I saw coupons for frozen dessert bars, pepperoni, instant mashed potatoes, candy bars, shortening, and canned soups. I saw no coupons for fresh fruits and vegetables, unprocessed meats, milk, or eggs. If the idea is to eat healthily, then most of the foods covered by coupons will not help you achieve this goal.

Learn to love leftovers

. I know the term leftovers often brings to mind limp produce and mushy, monochrome casseroles. However, there are many ways to jazz up leftovers so they are attractive and tasty. It's important to apply these strategies because it is often more affordable to make a little extra food for dinner and eat the leftovers for lunch than it is to prepare a separate lunch or go out to eat.

Purchase frozen fruits and veggies

. Frozen fruits and vegetables are pretty affordable. For example, the grocery store where I frequently shop sells 16 oz. bags of common veggies (green beans, carrots, peas, etc.) for just $0.99 ($0.17/serving). These are a great option because researchers have found that frozen fruits and vegetables retain most of their nutrients. In fact, they can contain more vitamins than "fresh" fruits and vegetables that have been stored for long periods of time.

Consider the Dirty Dozen

. Organic products are especially pricy. If you're trying to squeeze in some organic purchases, then be sure to purchase organic varieties of the fruits and vegetables on the Dirty Dozen. These 12 fruits and vegetables are those that have the most pesticide residues.

Prepare meatless entrees

. Proteins such as canned salmon and tuna, dried or canned beans, peas, and lentils are filling, nutritious, and very affordable. You can save a lot on your grocery bill each month by occasionally replacing meats such as beef, pork, and chicken with one of these alternative protein sources.

Purchase foods when they are in season

. Fresh fruits and vegetables are often very expensive when they are not in season. However, when they are in season their prices come down. Nonperishable foods also have periods of time when they are "in season." No, they aren't harvested during a particular season, but stores tend to run sales on some items at particular times during the year (e.g., baking supplies go on sale before Christmas, condiments go on sale before Independence Day). Determine which products are in season during which months with this month-by-month buying guide.

Buy in bulk

. Where I do most of my grocery shopping, a 3 lb. bag of Granny Smith apples costs $3.69 (or 1.23/lb.). If you purchase just a few Granny Smith apples, it will cost you $1.99/lb. Similarly, you can purchase an 80 oz. bag of shredded cheese for $13.98 (or $2.80/16 oz.), but a 16 oz. bag of shredded cheese costs $3.99. The cost savings for purchases like these are clear. Keep in mind that there are some caveats with bulk purchases. If you aren't going to be able to use a product before it goes bad, then there's no reason to purchase it in bulk. Additionally, always check the unit price on items. Though it tends to be infrequent, sometimes bulk quantities cost the same as (or even more than) smaller quantities. Having enough money to make initial bulk purchases can be difficult if you're on a tight budget. Find some tips on affording initial bulk purchases here.

Consider investing in an extra freezer

. It's difficult to make bulk purchases of items such as meats and cheeses if you don't have freezer space to preserve them. If you don't already have an extra freezer, it will cost you money to buy one. How can this be a strategy to save money on healthy foods? The calculations in this post will help you determine if you can save money in the long run by paying a little upfront for an extra freezer.

Plan ahead

. Plan out your meals for the coming week or month. Then make a grocery list and shop according to it. You will be less likely to purchase unneeded items if you have a plan.

Plant a garden

. If you have room in your yard or on your patio, consider growing some of your own vegetables. Sometimes people end up throwing away money when they plant a vegetable garden because they invest a lot of money in supplies, but reap a small amount of produce. Thus, you will want to put some thought into this. Figure out which plants will grow well in your climate and in your type of garden (containers, raised beds, etc.). Also, be careful you don't spend too much on supplies.
Do any of these strategies help you? What things do you do to save money on healthy foods?
Shared on the following link-ups:
Motivation Monday, Frugal Days, Sustainable Ways, Thrifty Thursday, Thriving Thursday, Thrive @ Home, Whatever Goes Wednesday & Works for Me Wednesday.