Today's post is a long overdue follow-up to one I wrote several years ago. In that post, I shared a couple of ways to clean up rust rings that have formed around the drains of tubs and sinks. These approaches still work. However, as a few commenters noted, the rust rings tend to return. This typically occurs because the rust has eaten away at the enamel that coats the tub.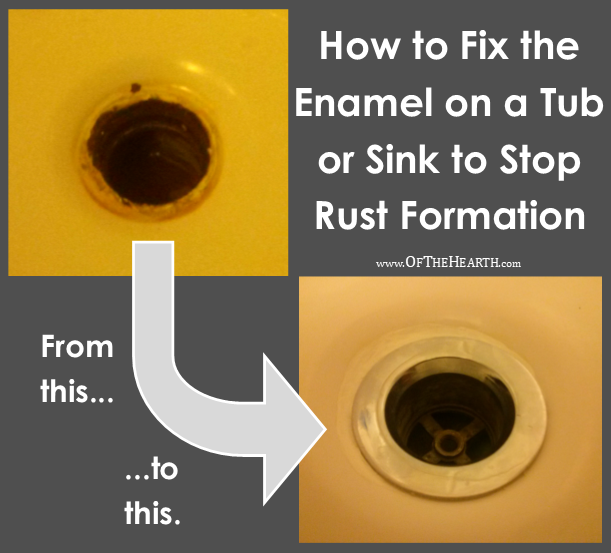 We began having this problem after I published that post. Thankfully, there is a relatively simple and affordable way to fix porcelain enamel so the rust doesn't return! I did this with our tub and, if your tub has porcelain enamel, you can easily do it with yours.
How to repair the porcelain enamel on a bathtub or sink
If the rust is located around the drain, then you'll need to start with Step 1. If the rust is somewhere else in the tub or sink, then you can begin with Step 2.
Step 1: Remove the drain stopper and flange
There are several different types of stoppers and flanges, but most are fairly easy to remove. You can find detailed instructions for removing drain stoppers here and detailed instructions for removing drain flanges here.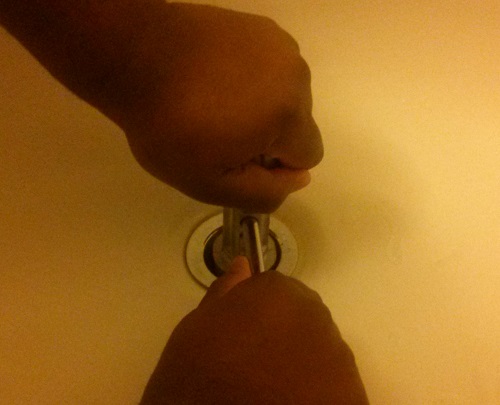 You will likely need a Drain Key or Smart Dumbell to complete this step. These are available at home improvement stores, plumbing supply stores, and on Amazon.
Step 2: Clean up the rust
Remove the rust using a product like Bar Keepers Friend. Allow the area to dry. I suggest ventilating the room and allowing it to sit for 24 hours to make sure it is good and dry (you don't want to trap moisture in when you repair the enamel because it could cause the area to rust again). You can also use this product to clean the flange.


Once the area is dry, gently sand with a fine sandpaper to smooth out the enamel edges and ensure the rust is gone. Wipe away any debris so the surface is clean.
Step 3: Repair the enamel
Use Porcelain Filler and Repair to repair the area.


It may take several coats to fill in the damaged area (my tub required three). Follow the product instructions for ventilation and dry times.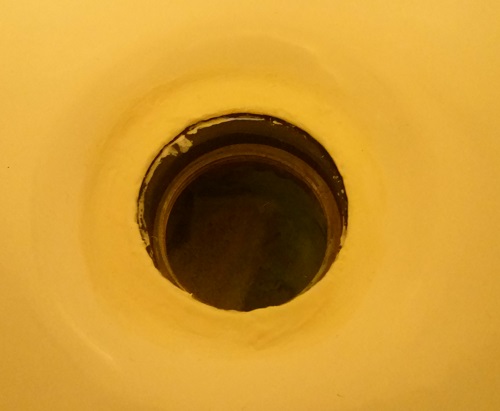 Step 4: Touch up the area
Paint over the repair with Porcelain Touch-Up so it blends in with the tub or sink.


This product comes in multiple colors (white, almond, bisque, etc.) so be sure to purchase the one that will blend with your fixture! Again, follow the product instructions for ventilation and dry times.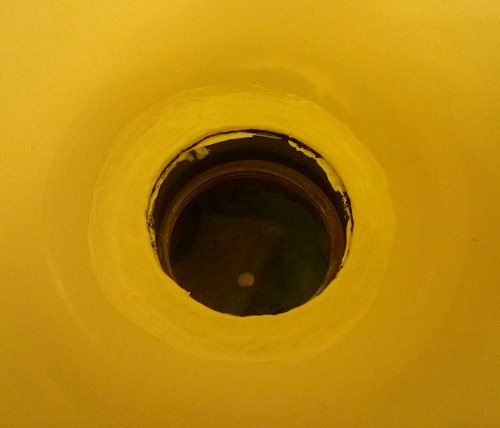 Step 5: Replace the flange and drain stopper
Before replacing the flange, be sure to apply a ring of plumber's putty beneath its edges. Plumber's putty is a pliable setting compound that creates a watertight seal around the drain. You don't want to forget this because it could result in a leak!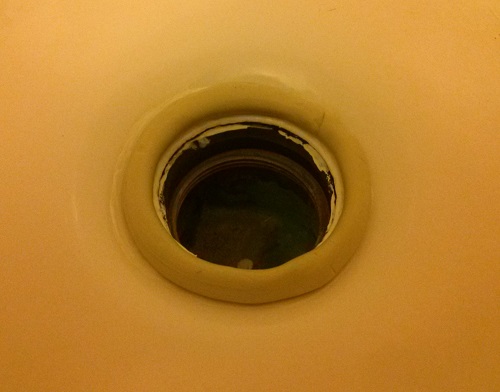 The putty will compress as you screw in the flange. Simply pull away the portions that come up out around the flange.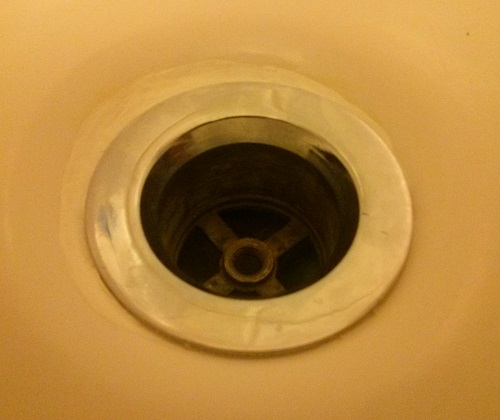 Notes
It took us a few days to complete this project, but it was inexpensive and easy! We remained in this house for a year following the repair and had no additional issues with rust. As you can see from the pictures, the Touch-Up product wasn't an exact match for our tub, but the slight difference in color didn't bother us!
I hope this helps you repair your tub or sink so rust stops forming! If you have any questions, please ask them below.
Shared at the following:
Tuesdays with a Twist, Think Tank Thursday, and Welcome Home Wednesdays.
Save
Save
Save
Save
Save
Save
Save
Save
Save
Save