Last week we looked at some ways to have hospitality-ready homes. I mentioned several practical strategies, but one strategy—preparing to welcome guests with genuine enthusiasm—is not practical. Instead, it relates to the state of our hearts.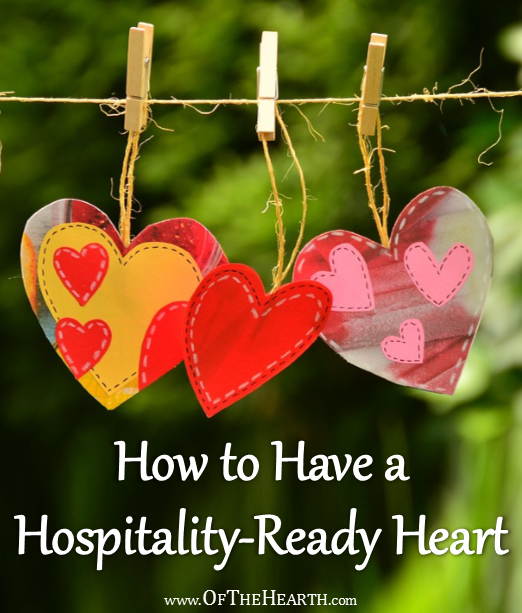 In trying to prepare my heart for hospitality, I've found it useful to consider some things that hospitality isn't and some things that it is.
What isn't and is hospitality
Hospitality isn't just about hosting people in the physical structures of our homes.

Yes, we often invite people into our homes when we practice hospitality, but hospitality is also about inviting people into our lives. It's about fellowship (Acts 2:42-46), stewardship (Luke 12:48b), meeting the needs of others (Romans 12:13, Leviticus 19:34), and sharing God's love (John 13:34).

Hospitality is for everyone.

You don't have to be on Pinterest or have a big house to practice hospitality. You don't have to be female, married, or wealthy. You don't even have to have the "gift" of hospitality. The Bible provides these instructions to all who follow Christ: Show hospitality to strangers and saints (Hebrews 13:2, Romans 12:13) and do so without grumbling (1 Peter 4:9). In Titus 1:8 and 1 Timothy 3:2, hospitality is even listed as a requirement for elders.

Hospitality isn't easy.

When we practice hospitality, it rarely looks like the images we see on Pinterest or the covers of cookbooks. It's messy, it's complicated, and it requires us to sacrifice and be vulnerable. We want guests to share their lives with us so we can share in their joys and their struggles (Romans 12:15). The joys part of this is easy, but most of us are less enthusiastic about sharing in their struggles. We don't want to take on their problems because we have enough of our own! Sometimes it's challenging to invite certain people over because we have personality conflicts with them. Sometimes it's difficult because we know certain individuals will never reciprocate the hospitality. As we go about this messy, complicated hospitality, we're vulnerable. If we keep it real, then we expose our imperfections—the physical imperfections of our homes, the relational imperfections in our families, and the spiritual/emotional imperfections of our hearts—to our guests. This sort of vulnerability is uncomfortable, but it is necessary to form deep, genuine relationships with our guests.

Hospitality is a display of the Gospel.

When we welcome loved ones and strangers to our tables and into our homes and lives, we illustrate how the Lord has shared eternal life with us. Though we may be sitting around a table breaking bread (or pizza, meatloaf, burritos, etc.), the way we serve and our words point our guests to the Bread of Life. When we prepare spaces for tired individuals to stay the night, we model Christ's ultimate hospitality—that He is preparing a place for us to spend eternity with Him.
Sharing our hearts and homes with people has eternal consequences! Doesn't this get you excited about hospitality?
Do you ever struggle to get your heart ready to welcome guests? What things do you do to remove your focus from yourself and place it on the people you are welcoming into your home?
Shared at the following:
Monday's Musings, Literacy Musing Mondays, Tuesday Talk, Happy Now Link-Up, Coffee and Conversation, Faith Filled Wednesday, Grace and Truth, Home and Garden Linky, and The Art of Home-Making.
Save
Save
Save
Save
Save
Save
Save
Save
Save
Save