This last summer, when I was 36 weeks pregnant, our AC stopped working. It was June and we live in southeast Texas, so you can imagine how hot it was in our house! I'll never forget how two gracious friends invited us to stay with them until technicians were able to fix our AC. They had no warning, but these friends welcomed us into their home, gave us a key so we could come and go as needed, and invited us to eat their food.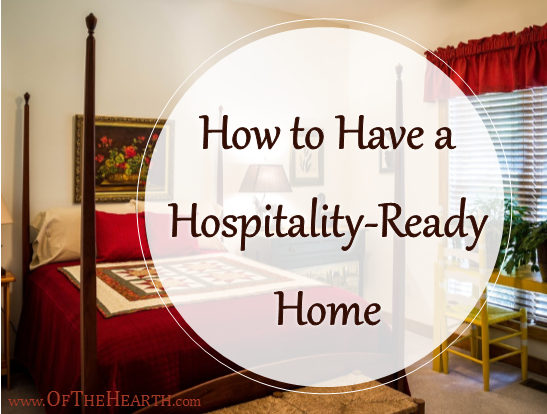 Their response is an example of how my husband and I have always wanted to use our home. We're blessed with a house and feel that we should exercise various forms of hospitality so it is also a blessing to others. However, to be perfectly honest with you, hospitality doesn't come naturally to me. I worry about the imperfect features of my house and, as a mom of two young kids, I struggle to keep it clean. I'm a planner and have a "Type A" personality, so it's hard to embrace spur-of-the-moment change. Moreover, I'm introverted, so it's sometimes rough having a full house.
Despite these personal challenges, I'm committed to using my home to serve others. Earlier this year I decided to try to have a hospitality-ready home. In other words, I've taken steps to make sure we are ready to welcome folks with little notice.
How to keep your home ready for hospitality
Keep areas that will be used by guests clean.

Certain areas of my home (living room, kitchen, guest room, bathrooms, etc.) will be used by guests. I make it a priority to keep these areas picked up. This doesn't mean they are spotless, but I try to keep them clean enough that guests will feel comfortable in them.

Have clean bedding and towels ready for guests.

As soon as overnight guests leave our home, I launder the sheets and get them back on the bed in the guest room. I do this so that the guest bed is always ready for use. I keep extra blankets and sheets easily accessible in the closet of the guest room so that these are available should we have so many guests that we need to use the couches as beds. Likewise, I try to keep some towels set aside so we always have some that are clean and available for guests to use.

Have a food game plan.

If I haven't grocery shopped recently, then it is likely I won't have the food I need to hosts guests. One way I try to make sure I'm prepared for at least one good meal is to have a frozen dinner on hand at all times. Lasagna is one of my go-to options because it reheats well and most people like it. I also like freezing this Mexican Rice Bake. Like lasagna, it reheats excellently and has a great, family-friendly flavor. One dinner won't last long, though, so I also keep two helpful lists. One is a short list of meals that I like to prepare for guests (these are tasty meals that are easy to prepare and feed larger groups). The other is a list of essential foods for guests (e.g., things I will likely need for guests including milk, bread, eggs, snack foods, and the specific ingredients needed for the meals I just mentioned).

Plan for guests' comfort.

Because my home is not a luxurious bed and breakfast and my family is going to be going about its everyday business, I can't provide guests with a resort-like experience. However, I do think about what little things I can do to make their stay comfortable.

Make sure the bathrooms have extra rolls of toilet paper so guests don't have to search for these.
Give guests a brief tour of the kitchen so they know where to find things.
Provide guests with a key to the house so they can come and go on their own.
Post the wi-fi password in the guest room.
Provide an alarm clock in case guests don't have cell phones or don't use their phones as alarms.
Have extra toiletry items (e.g., toothpaste, soap, shampoo) on hand in case guests need them.
Communicate any "rules" or expectations to guests (e.g., remove shoes at the front door, be quiet during nap times).

Prepare to welcome guests with genuine enthusiasm.

From a Christian perspective, hospitality is about much more than the act of allowing a person to stay at our house. I find it relatively easy to complete the tasks listed above and to invite someone over, but I don't always do this with the right attitude. Sometimes I do it begrudgingly. Sometimes I feel like my life is being interrupted by the presence of guests. We'll take a look at how to prepare our hearts for hospitality next week.
These approaches make a big difference! When I have them completed (or when I've planned for those that won't occur until guests arrive), I don't feel anxiety about all I need to get done before we invite people into our home.
Is your home ready for hospitality? If so, what things do you do to keep it that way?
Shared at the following:
Monday's Musings, Literacy Musings Monday, Tuesdays with a Twist, Tuesday Talk, The Happy Now Link-Up, and The Art of Home-Making.
Save
Save
Save
Save
Save
Save
Save
Save
Save
Save