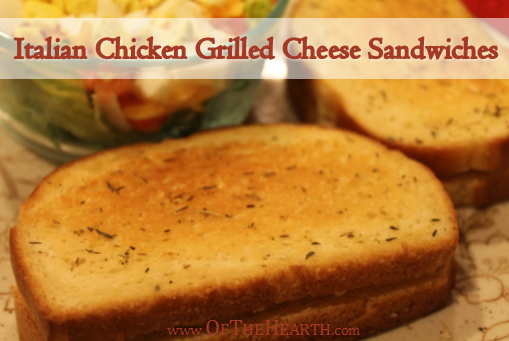 Every now and then I come up with an idea for a truly unique dish—something that is unlike anything I've eaten previously. That's what happened when I thought of Italian Chicken Grilled Cheese Sandwiches while developing our menu for this fall. These tasty sandwiches are easy to prepare and hearty, making them a great addition to our menu.
Ingredients
1 chicken breast, cooked and shredded
4 tablespoons ricotta cheese
3 tablespoons finely chopped tomato
A dash of salt and pepper
A couple dashes of garlic powder
8 slices of Italian bread (or bread of your choice)
4 slices of mozzarella cheese
2-3 tablespoons butter, softened
A couple dashes of Italian seasoning
Instructions
Stir together the shredded chicken, ricotta cheese, tomato, salt, pepper, and garlic powder. I like to place the cooked chicken breast into my stand mixer while still warm and use the flat beater attachment to beat it for 30-60 seconds. This shreds the chicken so easily! I then add the ricotta cheese, tomato, salt, pepper, and garlic powder and mix for an additional minute or so.
Stir the Italian seasoning into the butter. Spread one side of a slice of bread with the butter mixture. Place the bread, buttered side down, in a skillet over medium heat. Top the bread with one slice of mozzarella cheese and 1/4 of the chicken mixture. Spread the butter mixture on one side of another slice of bread. Place this piece, buttered side up, on top of the chicken mixture to form a sandwich. Gently grill the sandwich until the bottom piece of bread is golden brown. Flip it over and grill the other side until golden brown. Remove from the skillet and keep warm while you cook the other sandwiches. Yield: 4 sandwiches.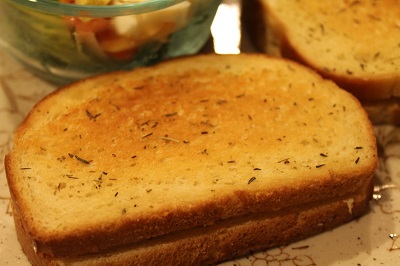 Notes
We really like the rich flavor of these sandwiches. The Italian seasoning that fuses onto the bread when it is grilled is an especially nice touch. The chicken makes them much more filling than traditional grilled cheese sandwiches.
The ingredients for this dish cost approximately $4.04, which is just $1.01 per sandwich. We serve these sandwiches with salad on the side, so this brings the cost to approximately $2.51 per serving (if you eat one sandwich) or $3.52 per serving (if you eat two sandwiches). Try these tasty, affordable sandwiches tonight!
What's your favorite way to prepare a grilled cheese sandwich?
Shared on the following link-ups:
Frugal Crafty Home, Making Your Home Sing, Friday Potluck, Creativity Unleashed, Thrifty Thursday, Thriving Thursday, Home and Garden Thursday, Whatever Goes Wednesday & Works for Me Wednesday.