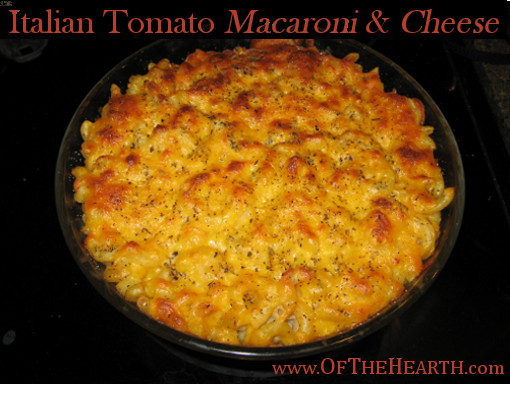 I like having homemade macaroni and cheese on the menu each month because it is a meatless entrée that is still hearty. For our most recent menu, I reviewed several recipes in an attempt to find a way to put a spin on the way I traditionally prepare macaroni and cheese. I pulled elements from a couple of different recipes and merged them with my traditional recipe. While this sort of approach can lead to a culinary disaster (I know this from firsthand experience), this time it led to a sensational victory.
Ingredients
3 cups macaroni (uncooked measure)
4 cups shredded cheddar cheese
1/2 cup sour cream
1/2 of a 15 oz. can Italian diced tomatoes
Salt and pepper
2 tablespoons butter
3 teaspoons Italian seasoning (basil, oregano, parsley, etc.)
1 1/2 cups milk
Instructions
Preheat oven to 350°F. Cook macaroni according to package instructions, drain, and return to the pot in which it was cooked. Mix together the tomatoes and sour cream in a medium bowl, then stir into the macaroni.

Place one-third of the macaroni mixture in a greased oven-safe bowl or casserole dish. Sprinkle with one-third of the shredded cheese. Sprinkle salt, pepper, and one teaspoon of the Italian seasoning on the cheese. Repeat twice, so you have a total of three macaroni-cheese layers. Place pats of butter on top of the final cheese layer. Pour the milk over the top.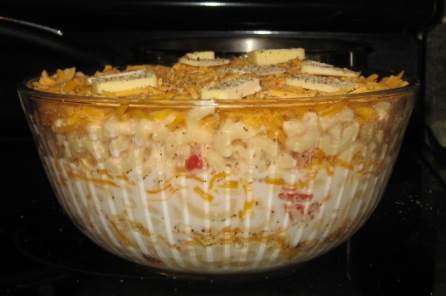 Bake uncovered for 30-35 minutes, until it is heated through and the top layer of cheese is lightly brown and crisp. Yield: 4 hearty servings.
Notes
My husband has a strong dislike for sour cream, so I was a little concerned about how he would respond to this dish. He loved it! You can't taste the sour cream. In fact, it's very difficult to describe the underlying flavors of the dish. It tastes like macaroni and cheese, but there are rich, savory undertones. If you eat any leftovers of this dish, I recommend adding a splash of milk before reheating so it remains creamy.
The ingredients for the dish cost $5.04, which is $1.26 per serving (this price includes everything but the salt, pepper, and Italian seasoning, which are staples in my house). We eat it with a vegetable (usually a frozen vegetable), so this side brings the cost of each serving to $1.43. There are few dishes that cost so little but taste so good. Give it a try!