My two-year-old sort of understands the idea of a race. She'll zoom down the hall and around the living room before extending her hands and happily declaring, "I won!"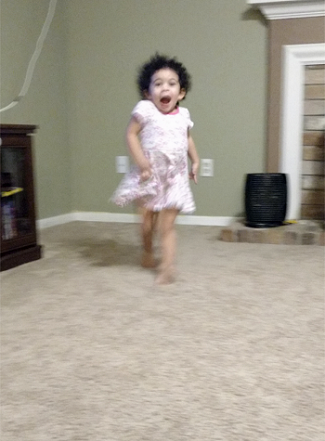 She understands that one is supposed to run as quickly as he or she can, but she clearly doesn't understand the concept of competition. She doesn't understand that it is easy to win—in fact, it is nearly impossible not to win—when running a race without competitors.
As happens so often when observing my children, this turns my mind to spiritual things. When it comes to the Lord's approval of us, we each run the race alone. He isn't comparing us to our neighbors, to the pastors of our churches, or to the authors of books on Christian living. He isn't comparing us to famous figures in the Bible. He considers each of us as individuals.
This doesn't mean that we have the freedom to live in any manner that we desire. We each must make the choice to believe in God (Romans 10:9-10). We should obey the Lord's command to love Him and to love our neighbors as ourselves (Matthew 22:37-40). We should feed the hungry and care for the vulnerable (Matthew 25:34-40, James1:27). We should have life-giving relationships with other Christians (Acts 2:42-47). We should avoid sin (jealousy, hatred, sexual immorality, selfish ambition, etc.) and seek holiness (Galatians 5:13-26, I Peter 1:15).
I feel both free and solemn in response to this. I feel free because my standing before the Lord isn't determined by how I match up to those around me. I feel solemn for this same reason. Sometimes, in highly prideful moments, I justify my own imperfections by comparing myself to others. At least I don't cuss like he does. Unlike her, at least I attend church regularly. At least I don't yell at my kids as much as she does. You get the idea. It's not pretty and, quite frankly, it's pointless. It may temporarily make me feel better about myself, but in the end I will stand before the Lord and give an accounting of what I've done, not of what I've done better than someone else.
When I see my daughter zoom through the house and declare herself the winner of a one-man race, I'm reminded to refrain from comparing myself to others and to consider instead how my life matches up with the commands the Lord gives us in the Bible. It is by obeying these that I please the Lord, not by seeking to give and serve more or sin less than someone else.
Do you ever find yourself evaluating your obedience or your worth by comparing yourself to others instead of looking at what the Bible says? When this happens, what do you do to get your focus back on the Lord?
Shared at the following:
Moments of Hope, Word Filled Wednesday, Coffee and Conversation, Grace and Truth, and The Art of Home-Making.
Save
Save
Save
Save
Save
Save
Save