Dinner leftovers comprise the majority of the lunches in my household. By eating them, we save money and avoid wasting food. Sometimes we really enjoy leftovers, but other times we merely tolerate them. Let's be honest: Some foods just aren't as good the second time around!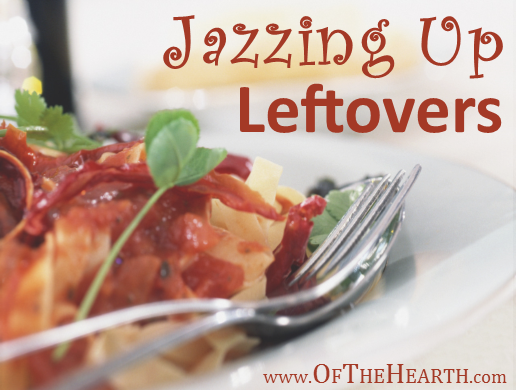 In an attempt to avoid mushy, monochromatic remnants, we're employing creative ways to make leftovers more appealing.
Ways to jazz up leftovers
Practice "stew"ardship

. Combine leftover meats, veggies, pastas, and/or rice with some broth and spices to make tasty soups and stews.

Get saucy

. Sauces cover over a multitude of unsavory tastes and textures. Revitalize leftover veggies with cheese sauce. Drizzle a creamy custard sauce over stale cake to give it a new lease on life.

Use a decoy

. Enhance the appearance of drab leftovers with color-contrasting garnishes. The bright colors of things like paprika, chives, parsley, and shredded cheese can make a huge difference.

Camouflage it

. Is the leftover pasta a little mushy? Hide it amidst some fresh pasta. Are the leftover green beans limp? Hide them in a stir-fry.

Wrap it up

. Wrap leftover salad and chicken (or other meats) in a tortilla or other flatbread to make a satisfying wrap. Roll leftover beans and rice into a burrito. Fold some shredded cheese and leftover chicken into a tortilla for a quick quesadilla.

Get scrambled

. Just about any leftover veggie can be scrambled with eggs for a hearty breakfast.

Experiment with substitutes

. Substitute leftover pancakes for bread when making a PB&J sandwich. Substitute leftover waffles for an English muffin when making a breakfast sandwich. Pour Swedish meatballs over leftover mashed potatoes instead of preparing noodles.

Pack a bento box

. A bento is a single-portion packed meal common in Japanese cuisine. Traditionally, a bento contains rice, fish or meat, and veggies. Are these items among your leftovers? By placing them in a divided bento box, they look very appealing. (Even if you don't pack a bento box, consider repackaging leftovers in individual servings. A small amount of food contained in a loosely covered casserole dish that needs to be washed is nowhere near as appetizing as an individual serving in a neat glass dish with an airtight lid. It's much easier to reheat the leftovers this way, too!)

Ditch the "leftovers" label

. The term "leftovers" just doesn't sound appetizing. Names like "surplus," "rehash medley," or "highlights" sound a bit more enticing!
If you have any questions about how to safely store or reheat leftovers, you can get answers from the USDA here.
Do you eat a lot of leftovers? How do you make them more appealing? Please share your favorite tips below.
Shared on the following link-ups:
Works for Me Wednesday, Domestically Divine Tuesday, Teach Me Tuesdays, T.G.I.F., Thriving Thursday, From House to Home, Thrive @ Home, Frugal Days, Sustainable Ways, Welcome Home Wednesday & Encourage One Another.