There are women who claim they love all aspects of keeping their homes. I'm not sure if I should admire them or suspect them to be liars. Either way, I'm simply not a fan of all housecleaning tasks. Most tasks are things I don't mind and a few I actually enjoy. Sweeping and mopping, though, are tasks I just don't like. I never feel like I can get the floor clean enough—once I've swept, I inevitably come across hair and other debris with the mop. Then there is the base of the toilet. How can so much dust, hair, and other gunk gather in one place?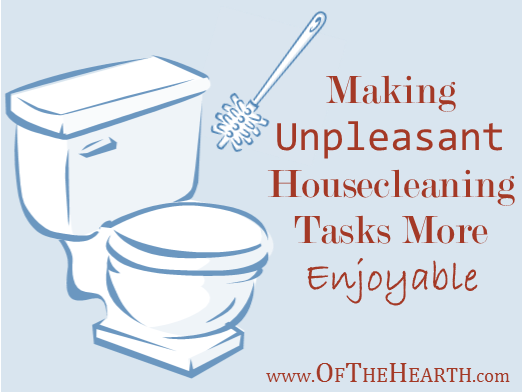 Though I've developed a housecleaning routine that helps me effectively and efficiently keep my house clean, I'd still love if there was some way to actually make the unpleasant tasks more enjoyable. I looked into it and found some ideas.
Tips for making cleaning more enjoyable
Listen to music

. Put in your favorite CD or turn to your favorite playlist and sing along as you clean. Upbeat songs may encourage you to work at a quick pace.

Listen to an audiobook

. Get caught up in a story and let it distract you from the unpleasantness of the task at hand. It might be especially useful to select a book that you listen to only when cleaning. The excitement of hearing what happens next may create anticipation for the next time you clean.

Use cleaning equipment with fun designs

. Choose rags, sponges, buckets, mops, brooms, brushes, etc. that are colorful or creatively designed. I can't speak to how affordable or effective these are, but I can see how they'd bring a smile to one's face while cleaning.

An attractive dust pan from tango-home.com.

Talk on the phone with a loved one

. Take advantage of a speakerphone feature or a wireless headset by visiting with a family member or friend while cleaning. I do this frequently and it sure makes the cleaning go more quickly! Obviously it will not work while completing a task like vacuuming, but it works well with many other tasks.

Use pleasantly scented cleaning products

. Instead of enduring obnoxious, overwhelming smells while cleaning, choose products that have scents you prefer (citrus, floral, etc.). If you make your own cleaning products, you can use essential oils to tailor the scents to your liking.

Make cleaning a gratitude exercise

. Be prayerful as you clean, thanking God for each and every item you have. What a blessing it is to have so many wonderful things that need to be cleaned!

Make cleaning a contest

. If you are cleaning with someone else, see who can get their tasks completed first. If you are cleaning alone, use a timer to see how much you can get done in a certain amount of time.

Give yourself beauty treatments while cleaning

. Put on a face mask and let it dry while you dust. Paint your toenails and let them dry while you load the dishwasher.

Reward yourself when you are done

. Once you've completed your tasks, let yourself relax by reading a chapter in a book or sitting back with a cup of hot tea while checking your social media pages. Once I finish cleaning a room, I often reward myself by lighting a scented candle. Even this simple action is a motivator for getting a room clean.
What is your least favorite housecleaning task? Have you tried any strategies to make it more enjoyable?
Shared on the following link-ups:
Blog Fair Link Party, Thriving on Thursdays, Teach Me Tuesday, Desire to Inspire, WholeHearted Home, Works for Me Wednesday, Titus 2sday, Teach Me Tuesdays & Living Proverbs 31.