My husband loves snacking on appetizers as he watches football games. A few weeks ago he asked me to prepare some meatballs for us to snack on during a game.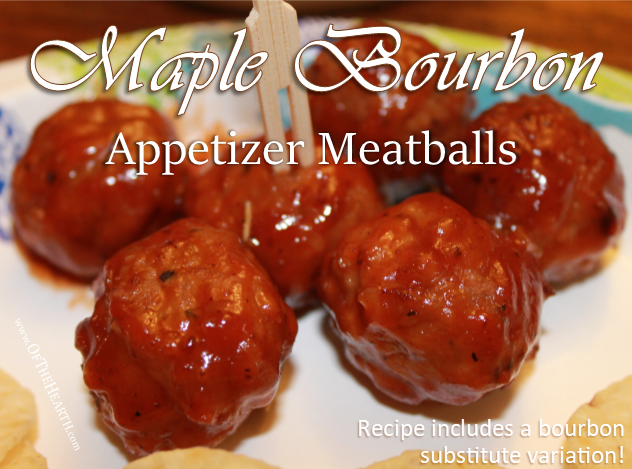 Appetizer meatballs are really popular and there are so many easy ways to make them. Therefore, you'd think it would have been easy to make some for him. It wasn't! He's picky, so all of the easy-to-prepare recipes that call for chili sauce or BBQ sauce mixed with some sort of fruit jelly or preserves were of no use. He doesn't like chili sauce or BBQ sauce and nothing short of famine would cause him to touch jelly.
He eventually got on Pinterest and found something that sounded good. It was a recipe for Bourbon Maple Chicken Wings (see that recipe here). I didn't want chicken wings, so we settled on a compromise: I'd make a sauce akin to the one yielded by that recipe if we could use it on meatballs instead of wings. The result was fabulous!
 Ingredients
1 bag (32 oz.) fully cooked, frozen meatballs
2 tablespoons butter
2 tablespoons minced onion
1 clove garlic, minced
¾ cup maple syrup
½ cup bourbon whiskey or 2 teaspoons rum extract in ½ cup apple cider
¼ cup chicken broth
2 tablespoons tomato paste
2 teaspoons corn starch stirred into 2 teaspoons water
½ teaspoon dried rosemary leaves
Several dashes salt and pepper
A couple dashes cayenne pepper
Instructions
Melt the butter in a saucepan over medium heat. Add the minced onion and garlic; cook for 2-3 minutes. Add the remaining ingredients. Whisk until combined. Bring to a boil, then reduce the heat and simmer for 8-10 minutes, stirring frequently. The mixture will have thickened slightly into a glaze.
Place the meatballs in a slow cooker. Pour the glaze over them and stir until they are coated. Cook on low for 3-4 hours or on high for 2-3 hours. Make sure the meatballs are thoroughly heated before serving. Yield: Approximately 64 bite-size meatballs.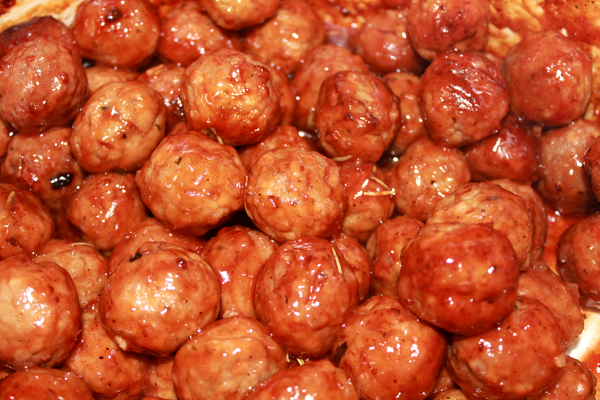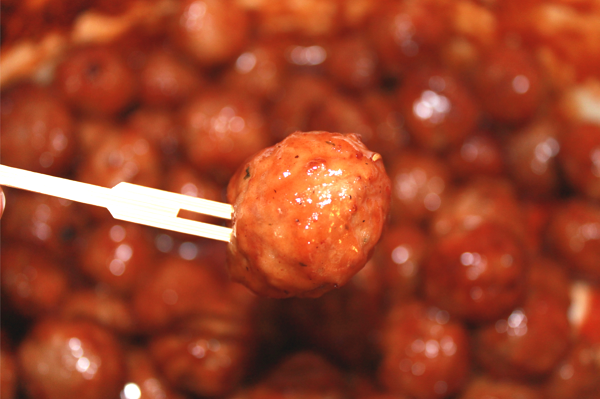 Notes
These meatballs were delicious! The maple bourbon glaze was slightly sweet and slightly spicy. It clung perfectly to the meatballs and complemented their savory flavor. You can use homemade meatballs in this recipe if you'd prefer (you'll want about 64 meatballs that are 1 inch in diameter). The sauce would also be great on wings, which is no surprise given the inspiration for the recipe.
These are great as an appetizer or as a game day snack. My husband is already talking about additional ways we can use the glaze and my girls (a 3-year-old and a 17 month old) both ate a couple of the meatballs and liked them. This recipe is an all-around winner!
What's your favorite way to prepare appetizer meatballs?
Shared at the following:
Weekend Potluck, What's for Dinner?, Sunday Dinner Bell, Over the Moon, More the Merrier, Too Cute Tuesday, Happy Now, Whisk It Wednesday, and Sundays at Home.