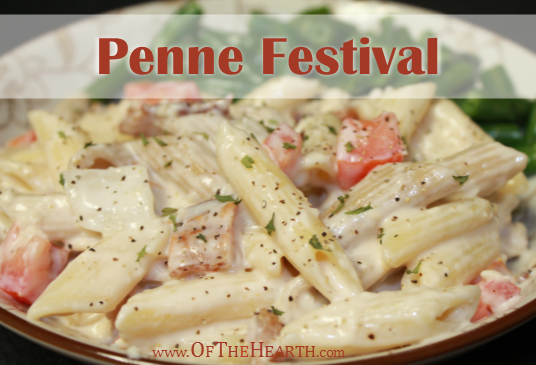 It has been years since I've eaten at a Johnny Carino's Italian Restaurant, but I recall there being a number of incredibly tasty items on the menu. I've recreated a few of these at home, including the Grilled Chicken Bowtie Festival. As you'll see here, I use penne pasta instead of bowtie pasta, but the taste is still delightful.
Ingredients
3 cups penne pasta
5 slices of bacon
1 tablespoon olive oil
1 red onion, finely chopped
2 cloves of garlic, minced
2 Roma tomatoes, chopped
2 chicken breasts, cooked and sliced
Several dashes salt and pepper
1 jar (15 oz.) Asiago Alfredo sauce
Snipped parsley for garnish (optional)
Instructions
Prepare the pasta according to the package instructions. While the pasta boils, cook the bacon in a skillet over medium heat until nearly crisp. Set the bacon aside and pour the grease out of the skillet. Cut the bacon into small pieces.
Pour the olive oil in the skillet and place over medium heat. Add in the bacon, red onion, garlic, Roma tomatoes, prepared chicken, salt, and pepper. Cook and stir until the bacon is crisp and the onions are translucent. Stir in the Alfredo sauce and prepared pasta. Remove from the heat and allow to cool slightly before serving. Garnish with snipped parsley, if desired. Yield: 4 servings.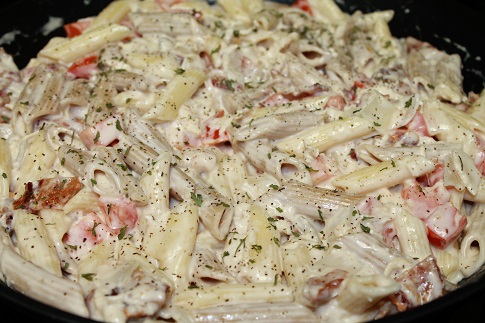 Notes
We love when this dish is on our menu! It is pretty easy to prepare, but its rich, savory flavor is very sophisticated. These days I use a jar of Alfredo sauce to make the dish, but in the past I've made it with a homemade version. It is great both ways.
The ingredients for this dish cost approximately $8.30, which is $2.08 per serving. We serve it with a vegetable on the side, which increases the cost to about $2.26 per serving. This is slightly more expensive than many of our menu items, but it is worth it!
Do you ever attempt to create restaurant favorites at home? What is your favorite copycat recipe?
Shared on the following link-ups:
Blog Fair, Weekend Potluck, Inspiration Spotlight, Creativity Unleashed, Coffee and Conversation, Tuesday Talk, Titus 2 Tuesday and Monday's Musings.