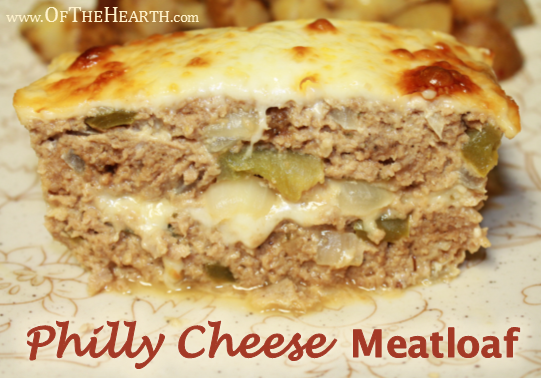 After we enjoyed last menu's Meatloaf Parmesan so much, I decided to attempt another twist on meatloaf. This time my inspiration was a Philly cheesesteak sandwich. Like the Meatloaf Parmesan, it was a hit!
Ingredients
1 medium onion, chopped
1 green bell pepper, chopped
1 tablespoon oil
1 lb. ground meat
1/2 cup bread crumbs
1 egg
Several dashes salt and pepper
1/2 teaspoon garlic powder
3 tablespoons Worcestershire sauce
6 slices provolone cheese
Instructions
Preheat the oven to 350°F. In a skillet, sauté the onion and pepper in the oil until tender. Combine these veggies with the remaining ingredients except the cheese in a bowl. Place half of this mixture into a greased loaf pan and top with 3 of the slices of provolone cheese. Repeat so you have two meat-cheese layers.
Bake for 45 minutes (the internal temperature of the meat should reach 165°F). Allow the meatloaf to sit for 5 minutes before slicing and serving. Yield: 4-5 servings.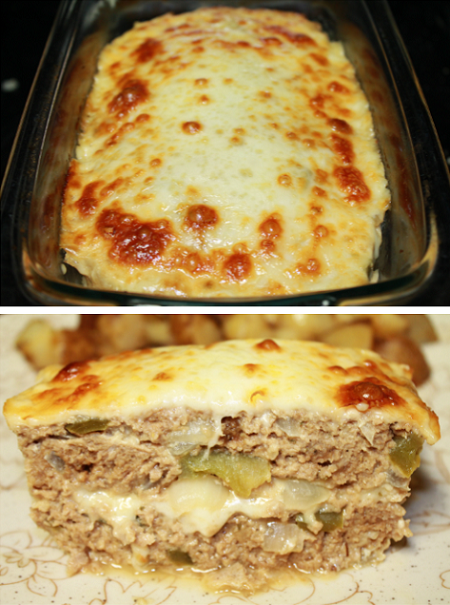 Notes
I used ground turkey when making this meatloaf and it turned out very well. It definitely tasted reminiscent of a Philly cheesesteak sandwich! Having two layers of provolone cheese was especially nice. When I make it next time, I will try it with ground beef. I think this will give it an even richer flavor!
The ingredients for this meatloaf cost approximately $8.29, which is just $2.07 per serving (if consumed in four servings). With a vegetable served on the side, this cost increases to about $2.24 per serving.
Will your family enjoy this flavorful spin on meatloaf?
Shared on the following link-ups:
Weekend Potluck, Think Tank Thursday, Home and Garden Thursday, Teach Me Tuesday, Titus 2 Tuesday, Handmade Tuesdays, The Art of Home-Making and Monday's Musings.
Save
Save
Save
Save
Save
Save