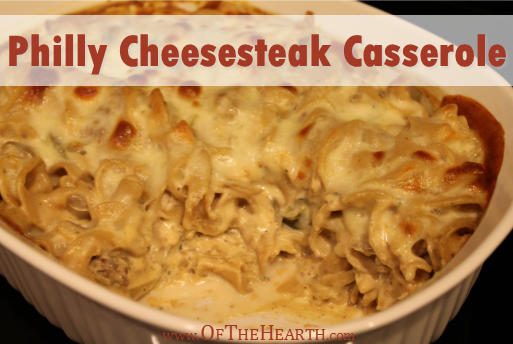 As the weather begins warming up, I tend to crave cool foods like salads and chicken wraps instead of the warm soups and casseroles I crave during the winter. However, I decided to include a couple soups and casseroles on our spring menu. Here's one of those casseroles. It's particularly delicious!
Ingredients
1 tablespoon olive oil
1 green bell pepper, thinly sliced
1 large onion, thinly sliced
5 cups egg noodles (precooked measure)
1 pound cube steak (or steak of your choice), cut into bite-size pieces
Dash of salt and pepper
3 tablespoons butter
3 tablespoons flour
2 cups milk
2 teaspoons minced garlic
2 teaspoons Worcestershire sauce
1 teaspoon ground black pepper
1 teaspoon dried parsley
1 teaspoon onion powder
1/2 teaspoon salt
1/2 teaspoon paprika
1 cup shredded cheddar cheese
6 slices provolone cheese
Instructions
Preheat the oven to 350°F. Heat the olive oil in a skillet over medium-low heat. Add the bell pepper and onion; cook until soft. Set aside.
Begin preparing the egg noodles according to package directions. Place the meat in the skillet you used to cook the pepper and onion. Season it with salt and pepper. Cook over medium heat until it is no longer pink.
When the egg noodles are done cooking and have been drained, combine them with the steak, peppers, and onion in a greased 3-quart casserole dish.
Melt the butter in a saucepan over low heat. Whisk in the flour to make a paste. Pour in the milk, whisking constantly. Stir in the garlic, Worcestershire sauce, pepper, parsley, onion powder, salt, paprika, and cheddar cheese. Slowly increase the heat to medium, stirring constantly until the mixture becomes thick and smooth. Stir the mixture into the ingredients in the casserole dish. Top with the provolone cheese slices.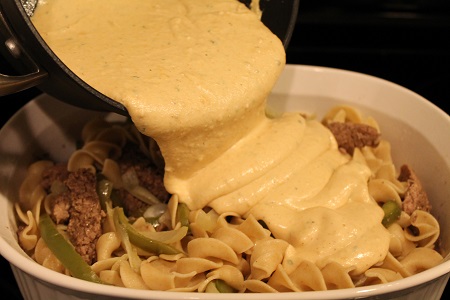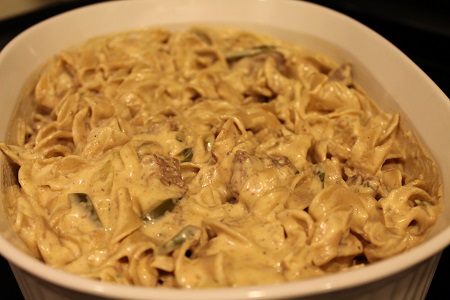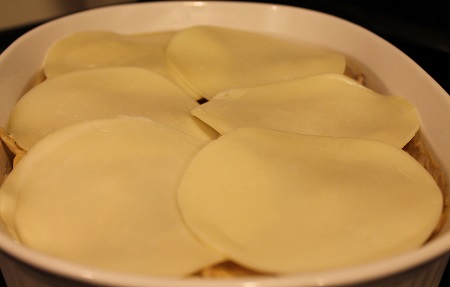 Bake for 20 minutes or until the provolone cheese melts. Yield: 6 servings.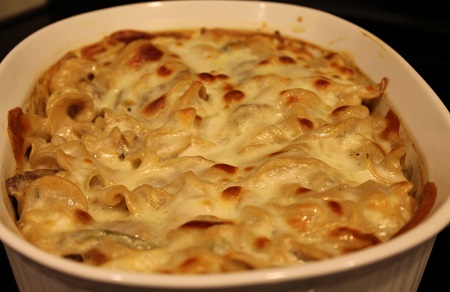 Notes
If a casserole is cheesy and creamy, then it tends to be a favorite in my house. This one definitely fits that bill! I made it with cube steak because I found it on sale, but you can use any sort of steak you prefer (you could even make it with ground beef). One drawback to this recipe is that it uses several dishes to prepare. One of these days I may try to prepare it as a skillet dish instead of a casserole to cut down on this.
The ingredients for this dish cost $10.51, which is $1.75 per serving. We serve it with a veggie on the side (usually carrots), so this increases the cost to $1.92 per serving. Considering that this dish contains both beef and cheese, this is very affordable. It's so rich and tasty that it's worth it!


Shared on the following link-ups:
Whatever Goes Wednesday, Frugal Crafty Home, Making Your Home Sing, Best of the Weekend, Weekend Potluck & Creativity Unleashed.
Save
Save
Save