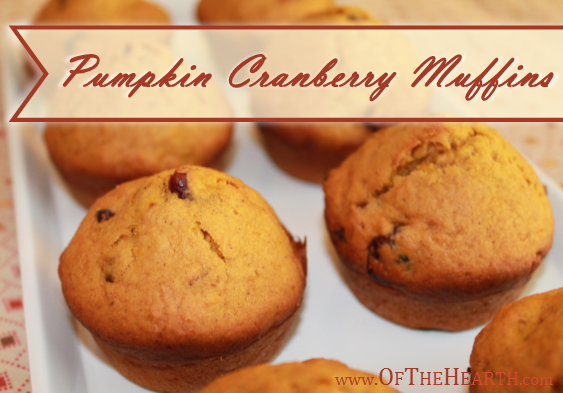 I've never been a fan of pumpkin pie, but I do often enjoy other baked goods that contain pumpkin. I think it is because I enjoy a hint of pumpkin flavor, but not the in-your-face pumpkin flavor that characterizes pumpkin pie. This fall I'm enjoying subtle pumpkin flavor in these Pumpkin Cranberry Muffins.
Ingredients
2 1/2 cups flour (I use white whole wheat)
2 teaspoons baking powder
1 teaspoon ground cinnamon
1/2 teaspoon baking soda
1/2 teaspoon salt
2 large eggs
1 cup sugar
1 cup pureed pumpkin
1/2 cup milk
1/2 cup coconut oil, warmed so it is in a liquid state
1 teaspoon vanilla extract
1 cup dried cranberries
Instructions
Preheat oven to 400°F. In a bowl, combine the first five ingredients. In another bowl, beat the eggs and sugar. Add the pumpkin, milk, oil, and vanilla; mix well. Stir the pumpkin mixture into the dry ingredients just until moistened (the batter will be thick). Fold in the cranberries.
Fill lightly greased muffin cups three-fourths full. Bake 18-22 minutes or until a toothpick comes out clean. Cool for about 5 minutes before removing from the pans. Yield: 2 dozen muffins.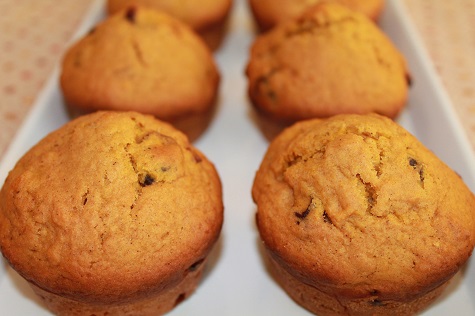 Notes
I'm a little embarrassed to admit that the first time I made these they only lasted two days. We ate them that quickly!
They are great for breakfast or for a snack. They are moist and flavorful, but not overly sweet. The tart flavor of the cranberries is a perfect complement for the pumpkin. I like to spread a little butter on mine, but they're also pretty tasty when left plain. Enjoying these muffins may become a fall tradition for us!
Do you enjoy baked goods that contain pumpkin? Which are your favorites?
Shared on the following link-ups:
Thriving on Thursdays, Party in Your= PJs, The Art of Home-Making, Monday's Musings, Creative Gallery, Making Your Home Sing, Weekend Potluck and Inspiration Spotlight.