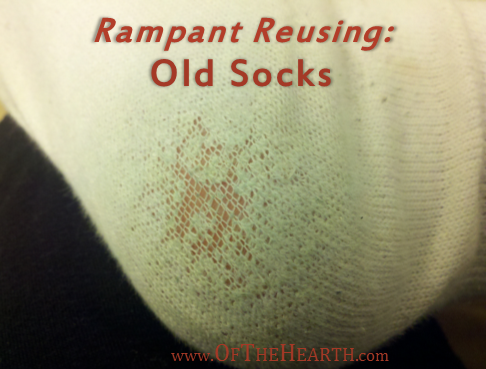 I knew it was time to buy new socks when I could feel the cold tile floor against my bare feet after putting on a pair of my old socks. Before throwing out my old ones, I looked into some ways I could reuse them.
10 Ways to Reuse Old Socks
Use socks to customize flower pots. Simply slip a sock over a pot and cut the toe portion off so the pot remains stable.
Slip a baggie of ice cubes or a reusable ice pack into a sock before using it to soothe bruises or sore muscles.
Fill a long sock (such as a knee-high) with rice or beans. Sew the end closed and place it at the base of a door as a draft protector.
When packing a suitcase, cover shoes with old socks to keep any dirt on the shoes from transferring to the clothes packed in the same suitcase.
Place long socks over windshield wiper blades on cold, moist winter nights to prevent frost from forming on the blades. This will reduce the amount of scraping you have to do before you can drive in the morning.
Use socks as rags or mitts when cleaning around the house or garage.
If only one sock of a pair has developed holes or is threadbare, you can always pair it with another lone sock and wear a mismatched pair. Who knows…maybe you'll start a fashion trend!
You can find more ideas on OF THE HEARTH's Pinterest Page. What uses have you found for old socks?
Shared on the following link-ups: