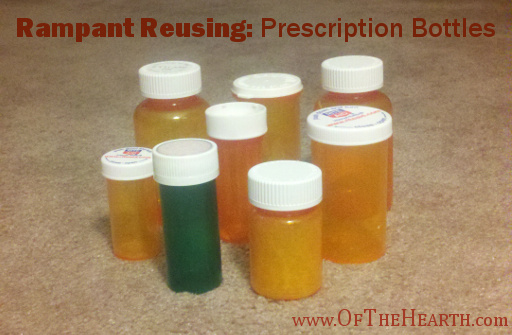 If you or anyone in your household routinely takes prescription medications, then dozens of prescription bottles likely pass through your house each year. I've long wondered if there wasn't some constructive way to reuse the bottles. I think I've finally identified a few ways that just might work.
If you want to try any of these ideas, be sure to completely remove the prescription labels so your health information is protected and wash the bottles in warm, soapy water so there is no residue left in them. Additionally, keep in mind that young children may not be able to differentiate between prescription bottles that contain benign items and those that contain medications. I would recommend against using prescription bottles to hold candies or other snacks so your kiddos don't accidently ingest a whole bottle of pills because they mistakenly think they are candy.
Ways to Reuse Prescription Bottles
Larger prescription bottles can be used to hold compact first aid kits. Place a few latex or nitrile gloves, gauze pads, adhesive bandages, alcohol pads, and a travel-sized tube of antibiotic ointment into a bottle and you have a simple first aid kit that is easy to transport just about anywhere.
Stack quarters and other coins in a bottle and store it in the glove compartment of your car. In doing so, you will always have a small amount of money available in case you need a couple of quarters to put into an air compressor at a gas station to fill your tires or to pay at an unexpected toll road. This is also a convenient way to transport quarters if you do your laundry in a coin laundry facility.
Bottles of various sizes can be used to organize sewing and craft materials. Keep your bobbins from getting tangled by stacking them in a bottle. Store pins without the risk of getting stuck by one. Keep spare buttons in one so none go missing.

From thezenofmaking.com.

Matches can be safely stored in prescription bottles. The matches cannot strike accidently against a plastic bottle, plus the bottle will keep them dry.
If you are using paint or another liquid substance in a project, use an old prescription bottle to hold the product. When you take a break, simply put the lid on the bottle to store it. It will not dry out, nor will it spill if the bottle gets tipped over.
Instead of carrying an entire box or bottle of laundry soap to the coin laundry facility, put just enough laundry soap for a couple of loads in a bottle to take with you. The same can be done when you travel.
Organize your toolkit by using prescription bottles to store screws, nuts, and other small objects.
You can find more ideas on OF THE HEARTH's Pinterest page. What uses have you found for prescription bottles?